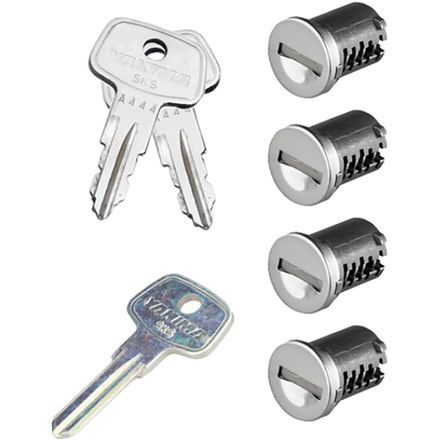 Colors

Community Images
Description
One-key locking solution.
The Yakima SKS Lock Cores 4-Pack is a simple solution to locking four of your Yakima racks and accessories with a single key for maximum convenience. Simply pop out the pre-existing lock core that came with your Yakima rack and install these interchangeable cores. This four-pack of SKS cores comes with two master keys, just in case you happen to misplace or lose one. It also includes a control key that removes existing unlocked cores, so you can swap in new locking cores.
Fits all Yakima lockable racks and accessories
Includes 4 SKS cores and 2 master keys, plus control key
Keeps my valuables secure.
Familiarity:

I've put it through the wringer
Easy install and easy to use. About as much as I could possibly ask for in a lock.
Bought locks for rail grab bars
Familiarity:

I've used it once or twice and have initial impressions
really easy to use, no problems at all, well worth the extra safety although it would be a pain for someone to try to steal them unless you are way far away from the car, but really they are a no brainer. I only bought 4 of them.
The ease of installing my rack system made it pretty clear how easy it would be for some hooligan to detach and run away with it if they were so inclined. These locks are a simple way to make sure everything stays happily attached, and were super easy to install.
Yea they are a little on the expensive side, but its completely worth it not to have anything stolen. Plus they're so easy to install!
I have a yakima rack system that I got in...
I have a yakima rack system that I got in 1994, I think, can I use the lock cores from that equipment on the rail grab towers? AND will the rail grab toweres fit on a 2004 Vibe?
The lock cores have not changed. The Railgrabs will work on your Vibe.
I bought this set of four core locks to go along with two Frontloader roof racks. Each rack uses two lock cores; one to secure the rack to the roof rails, and the other to secure a cable around the bike frame. The best part is that by buying this set they all use the same key! Brilliant!
They work, just expensive.
Definitely worth the expense. Believe me, $55 for some locks is quite a bit cheaper than getting 3 new snowboards stolen while you're getting a beer at a 7-11.

These are very easy to install, just slip in the 'install key' and press into place.
I bought a used Yakima rocket box and they...
I bought a used Yakima rocket box and they could not find the keys. Will these fit?
The RocketBox does use the SKS lock cores, so there is no reason that these shouldn't work.
Don't let ur stuff get ganked.
Got these to convert to a 1 key system. Swapped out the two cores on my SkyBox and added two matching cores to some accessory locks. They were easy to change out once I read the instructions, derrr.
I already have a few SKS locks and I would...
I already have a few SKS locks and I would like to know if you have the A150 so I can just have one key instead of having several.
We probably do have that specific one in stock, however...these items are chosen entirely randomly..so you have a 1/32 chance of getting that one (if we even have it) if you want to go that route your best bet is to contact Yakima directly and they can get you pointed in the right direction. Just hit up this web page:

http://yakima.custhelp.com/cgi-bin/yakima.cfg/php/enduser/std_adp.php?p_faqid=118&p_created=1186424525&p_sid=nRk68--j&p_accessibility=0&p_redirect=&p_srch=&p_lva=&p_sp=cF9zcmNoPSZwX3NvcnRfYnk9JnBfZ3JpZHNvcnQ9JnBfcm93X2NudD05OSw5OSZwX3Byb2RzPSZwX2NhdHM9JnBfcHY9JnBfY3Y9JnBfc2VhcmNoX3R5cGU9YW5zd2Vycy5zZWFyY2hfbmwmcF9wYWdlPTE!&p_li=&p_topview=1
Unanswered Question
I have a 2008 Toyota Sequoia. I ordered...
I have a 2008 Toyota Sequoia. I ordered the lowrider max system. Do I need anything else? I have seen claw clips...do I need them?
Without these, you can unclip the q towers or ski rack or what have you off your car. I have never had a problem with these after riding over 10k-15k miles with them on including 3 2150 mile trips with them on. Never had a problem with them opening up or anything
Consider Future expansion
If your just getting your first rack, consider getting more lock cores than you need right now. If you had to by new cores ever time you get a new peice to your rack (believe me expansion does happen) you'll end up with several more keys on your key chain than need be. Consider getting an 8 or a 10 pack, and keep the extra volume and weight out of your pocket.
After riding around inthe weather for a couple of years, the locks opened right up when I decided to switch the rack to my new truck. Other locks would have seized in the conditions these locks endure.
Get these before your SH!t gets stolen
4 stars because they don't come with the Yakima setup and you have to get them seperately. Otherwise they work great and even have a automatic closing door on the front to prevent dirt and water from getting in and rusting the unit.
Easiest locks you will ever install
These things are so easy to install it makes you wonder why they give you instructions. If you got anything someone might like to swipe from you strapped to the top of your car, you cant go without these. Like the other guys said before me, get more than 4. They're well worth it
The process of removing and replacing the lock cores was very simple and very quick. just make sure you get enough.
Easiest security install ever!
Just bought some locks to keep my boards on the car. The installation is quick and easy for instant security, and instant removal. Just wish I had bought more than 4