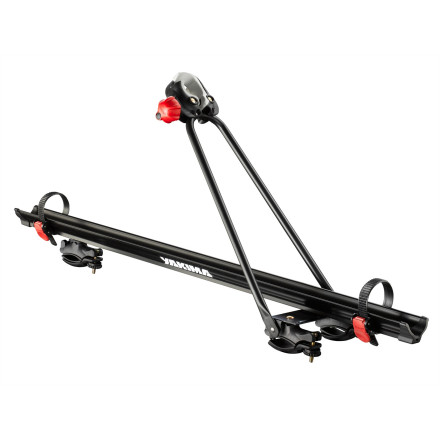 Detail Images
The Yakima Raptor bike rack holds a bike firmly with adjustable locking jaws and a triangulated arm, just like its primitive namesake. The Raptor applies upright convenience to a wide variety of tube shapes and sizes (up to 3in) at a reasonable price. Load and unload your bike without removing the front wheel. The Raptor's claw grips with a non-marring pad to protect the bike's finish; while a large red knob turns to secure the bike to the mount, meaning there are no levers to throw or weird gadgetry to deal with. The Raptor is compatible to factory racks with the addition of MightyMounts (sold separately) and mounts equally well to round or square crossbars.
YAK0092 Yakima Raptor Bike Mount 4 5...
YAK0092 Yakima Raptor Bike Mount

4

5 Community Rating | 9 Reviews



INEED TO KNOW SHIPPING FOR PUERTO RICO.FOR THIS ITEM #YAK0092.



|


Due to contracts with certain brands, Backcountry can't ship Yakima outside the U.S. I'm not sure if this qualifies, but if you want to make sure, add it to your cart and put in your shipping information, then it'll give you the amount.
Does this Bike Mount work on factory roof...
Does this Bike Mount work on factory roof racks? If not is there one that does? Are there other bike mounts that work on factory roof racks?
This will work on round or square bars, but if you have aero bars on your vehicle you'll need the universal mightymounts made by yakima.
Unanswered Question
I have a 2008 model Specialized Enduro....
I have a 2008 model Specialized Enduro. The bottom tube is large will this clamp down on it, or can you make another recomendation for a roof mount system for this bike?
Yakima Rack and Raptor Bike Mount
The ordering process was very easy and straight forward. I ordered thru Amazon, compared prices, and found backcountry.com to be the lowest for the Yakima items that I was looking for. No taxes and free shipping!!! The items came in approximately one week and were packaged securely. Instructions were simple! I have had the rack for about a month and love it. No more worries about my bike if I drop by the store and go in....I'm thinking about purchasing the faring since I hear a little road noise as I increase speed. It's worse when the moon roof is open. Anyway, I am very pleased with the purchase and Backcounty.
Will it fit on a 2005 Subaru Forester?
Will it fit on a 2005 Subaru Forester?
Best Answer
Mannie,
As long as your Forester has the fatory cross bars, you can use a set of Yakima 3590 Universal Mighty Mounts for $40, or you can use Mighty Mounts 24 H which are $36 for the set of 4 per bike mount. You can put up to 2 bikes on your Subaru Rack with either option and start enjoying the Spring weather that is certain to come this month.
Decent, but wear out kinda fast
Used one for about 2 years. Worked pretty good, but kind of a pain. I always got nervous when the arm that clamps the downtube would always more side to side. Also, the claw wears the paint off the bike.
Unanswered Question
Does anyone have any experience installing...
Does anyone have any experience installing the Raptor to a Snug Top tonneau truck bed cover?
Unanswered Question
Can you outline the advantages of a fork...
Can you outline the advantages of a fork mounted carriers and contrast it with this carrier
works good, very handy not having to take off the front tire to load bike. Only down side is that there isn't an option to lock the rack to the cross bars...so someone could unscrew the wing nuts and walk off with everything.
Unanswered Question
If I have Yakima round bar roof rack how...
If I have Yakima round bar roof rack how does Raptor Bike carrier attach to the round bars?
I already had one and purchased a second. No problems yet. I like the fact that I don't have to take my tire off. My only issue is that you have to tighten it in the right position or the bike will lean. It's still secure but it kind of concerns me. Overall a good rack
Unanswered Question
i have a s-10 blazer will this fit the...
i have a s-10 blazer will this fit the blazer
Rack OK, Yakima Info poor
The Raptor works just fine with my (non-round) bike frame, BUT the info from Yakima's website on the mounts to use with my Honda CRV factory rack is wrong. I had do modify them to make them fit.
Bike rack is very easy to use and very strong. I bought two of them for my VW Touareg and they're great. The bike fits firmly and it's a great value for the $$$.
I have had my Raptor about 2 weeks and noone at Yakima seems to know why my front wheel turns from side to side when the car is in motion. No matter how tight I strap it down. They have offered no solutions so I am going to have to return it. It's wearing my tire down when I travel.
If you don't want to have to remove your front wheel this rack is great. This rack is simple to use; I have it on top of my jeep, and I am not tall. The simple crank holds my non-round tube just fine.
If your bike has non-round frame components, don't get this rack, it won't hold the bike. Even if your bike does have a round downtube, make sure you install lock cores, and back the rack up with some kind of system that will pull the bike in to the middle of your car when the rack lets go of your bike - it's happened to me often. A better choice is the Yakima Cobra bike rack.