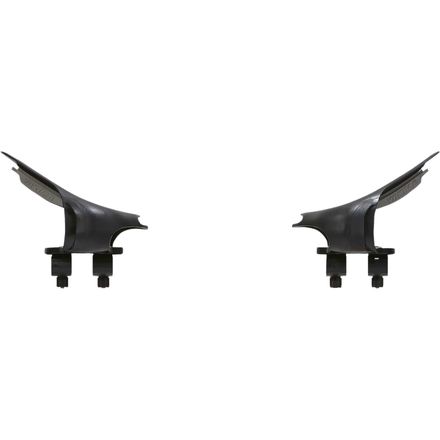 Description
However big or small your kayak, it loads easily and stays secure on the Yakima Mako Saddles.
Yakima Mako Saddles feature a scoop-shaped cradle that fits any hull shape, allows easy loading of your kayak, and provides a secure attachment for the drive to the water. Use the Mako Saddles with the HullyRollers (not included). Whether you paddle a long sea kayak or a stubby whitewater play boat, this Yakima system adjusts to hold your hull of choice. Yakima included a bow/stern tie-down strap with the Mako Saddles, so your boat won't take any unplanned trips before you make the put-in.
10 Years old and going strong
Familiarity:

I've put it through the wringer
I bought a set of Mako Saddles about 10 years ago now and they have performed brilliantly.



They have been used on several cars with different bars, meaning I have a box full of adapter hardware for them. I like that Yakima provides adapting hardware for them so I don't have to buy a complete new set when I change cars (not that I do that often) or cross bars.



I load up my kayaks, usually by myself and I put the bow on the rear rack and slide the kayak along the saddles. Once loaded I tighten up the straps, double check all is good and drive off. Simple.



The kayak does bounce around a little but I find the saddles hold it firm and actually provide a bit of spring to cope with rough roads. The straps press onto a rubber pad which grips the kayak quite well. I once drove from Houston to south west Michigan with a 12 ft rec kayak on top and the straps didn't loosen nor did I have any issues at all.



After 10 yrs the paddles are a little faded and starting to wear out somewhat but I am very happy with their performance, excellent value for money though and I'd buy them again without hesitation.
easy to use
Familiarity:

I've put it through the wringer
I got these for the front half of my car and wanted to use the "rollers" for the back. I wish I just got four of these saddles because once adjusted for your boat they're easy to use and the kayak slides nicer on these than the rollers! They cushion your boat and do exactly what they're supposed to. 5 years later they are still in great condition. They make it easy to put your boat where it needs to be and easy to tie your boat down to your roof rack.
when I place the order I did not readit I...
when I place the order I did not readit I went by the pic. Know I find out that i need the HullyRoller.Were can I get them


Hey,



Looks like we are sold out but you can buy them from Yakima direct here:

http://yakima.com/shop/water/roof/hullyrollers-1pair


The Mako saddle clamps on to a round or square bar. I installed them on a round bar, but there are little plastic tabs that can be removed which make it compatible with a square bar too. Installation is easy, with no tools required. Brackets are first snapped on to the bar, then the saddles are attached with a bolt and wingnut. Due to no necessary tools, it is also easy to make adjustments while on the road.

The Mako are sold in a pair, but two pairs are needed to carry one kayak. One for the front bar, and one for the back. I bought four pairs to carry two kayaks. I tested travel up to 80mph with two kayaks, and they held solid.

There are also some nice extras included in the box. There is a tie-down strap with rubber covering the cam buckle, which protects both your boat and the roof of your car. Also included is a bow or stern tie-down which hooks the end of your boat to the car's tow hitch. And each saddle comes with optional felt padding, to protect the boat. I found that with the included straps, nothing additional was needed to secure a kayak.

One thing to note is that these saddles are not compatible with a locking core. If a lock is needed, or if attaching to a Whispbar, then look at the Yakima Mako Aero saddles instead.
Holds boat very securely.
These saddles are great. I bought two pairs of them to haul around my 17 foot sea kayak. I didn't get the hullyrollers simply because I felt the saddles would hold the boat in place better. The straps from the saddles run right under the front and back of my cockpit coaming which means the boat is very secure. I've had them for about two years now and have used them tons of times. I move across country usually twice a year (Texas to Montana)and take my boat with me each time. That equals up to about 10,000 miles of traveling with my boat. I've driven at times up to 90 miles per hour, driven through torrential downpours, windstorms and on dirt roads so bad I've actually seen people crack their oil pan on it and these saddles have always held my boat on tight and secure. Sure, on those really windy drives though Wyoming the boat was moving around quite a bit but the saddles held. Originally I got one of those foam and strap tie down kits to use with my kayak but I couldn't even go 50 miles per hour with it because the straps just could not hold the boat on the roof. My kayak would just keep sliding around. That's when I decided it was time for a real roof rack solution and I couldn't be happier with the outcome. The only negatives I can think of is that the saddles do take a while to put on and off so I just keep them on the rack all the time. It's actually faster to take the whole rack on and off then it is to put the saddles on and off. Also, after he first year, the saddles started leaving pretty significant black marks on the hull of my boat in the shape of the saddles. My boat is plastic by the way. Scrubbing my boats gets off some of the marks but not all. I may have to use something more abrasive to remove them. The marks are purely cosmetic though. They probably formed as a result of my cross country travels and the boat slightly shifting and rubbing against the saddles in the high winds. If you don't plan on traveling cross country a lot then you shouldn't have a problem. Overall a great buy.
These are so easy to attach and when paired with the hully rollers they are even better, if you are going to be hauling a kayak get these with the hully rollers!
What would I all need to mount one kayak...
What would I all need to mount one kayak to the top of my mid size car?
IF your car doesn't have a factory rack, then you probably need to purchase a full rack set-up, and then these for the kayak. There is a link above to build a Yakima rack system for your car above the picture.
Unanswered Question
Will this mount onto my factory brackets...
Will this mount onto my factory brackets of my Chevy Astro Van .
Great saddles for securing your kayaks to the rack. Unfortunately it takes time to mount them to the rack .. for two kayaks there are eight wing nuts to align and tighten. Since we do not wish to drive around all the time with the saddles mounted it becomes a hassle to mount and dismount them before and after each paddle. Would be nice to have a simpler/faster mechanism: challenge to Yakima engineers.
I really like them because the kayak is so secure. Yakima seems to be doing some changes to them. Some come with two straps, and some with one. I like the one strap because it goes all the way around the saddles and kayak. I think Yakima makes a great product!