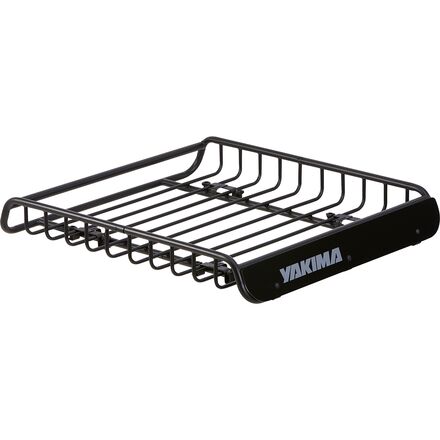 Community Images
The Yakima LoadWarrior System isn't just a basket, it's an ultra-capacity, multi-use beast! Merging versatility and a cavernous load-carrying capacity, the Yakima Load Warrior is a monster to be messed with. Yakima accessory compatible: with 1 1/8" front and rear load bars, you can attach Yakima accessories directly to the bars and carry your favorite bikes, skis, or boat. Monster Capacity: 44"x 39"x 6.5". Ideal for loads tall in stature and wide in girth. Weather resistant, heavy-duty steel construction is incredibly durable yet light weight. Custom fairing included. Universal hardware fits round, square and most factory racks. Weighs 25 lbs.
Killer Rack
Familiarity:

I gave it as a gift but have feedback to share
I bought this for my younger brother as he'll be moving up north for college within the year. We put in on his 2007 Subaru Forester over the holidays and it went on in minutes. Incredibly easy install. It is a super burly piece of equipment and looks great on the Fozzy!



If purchasing this I would double check your car racks load limit as the limit of this is 150 lbs but your cars racks load limit may be lower.
I'm looking at getting this rack, how can...
I'm looking at getting this rack, how can I still mount my bike to my roof? are the crossbars of the rack itself compatible?
Best Answer
Woah, mine didn't come with the kitty option!! sweet!


I purchased this a while back as a gift for my dad, and he loves it. He has a Toyota Tundra that has a fair amount of bed space, but with two dogs and 3+ people's gear, it can get a bit cramped back there! This is easy to put on and take off, and frees up some extra room for the pooches. Plus it looks good up top, and not at all junky. I will most definitely be getting one for myself, as the dog has started taking over more and more room in the car.
Can someone tell me how much room there...
Can someone tell me how much room there is vertically between the crossbar/s and the floor of the basket? I want to know if my stand-up paddelboard will fit in between this (this hasn't been recommended anywhere but it is what i like about this basket). The fold down fairing makes this even more appealing for what i want to do. Having my SUP in the rack along with my bike mounted above is the ideal goal.
i dont think it would fit. its less than a couple of inches, you can mount additional racks on top of the basket though. if you can just buy something like Thule Hull-a-Port Pro Folding Kayak Carrier that would still give you plenty of basket space in addition to keeping your paddle board secure.
good product, easy install
Familiarity:

I've used it several times
i have a 2002 subaru impreza wagon with factory load bars and it was very easy to install. only took me about 20 minutes. i didnt need to buy any additional mounts or adapters, everything was included to mount to factory bars. if im not mistaken, the mount system will work on both the newer flattened aero bars as well as the square steel cross bars.
Haven't mounted yet, but rack seems well built. No brittle welds or excess slag. Smooth and taut. Will post update with pics later. Best bang for buck!
Best Answer
Jordan, yes it should. However, keep in mind you will need to visit the Yakima website and start with Fit My Car link. This will select the type of clips, towers and accessories designed to fit your vehicle with or without factory mounted roof rack. The only issue you might have is having to remove your roof antennae. You also might have an issue with the hatch touching when fully raised, but only when you have accessories attached.
I used the Yakima fit guide for this rack for my 2011 Escape and was told it would not fit. Ironic since the image on their site for this and the Mega rack are both sitting on the roof of a Ford Escape. Haha.
Will this Yakima basket fit a Chevy Traverse...
Will this Yakima basket fit a Chevy Traverse with factory cross bars??
Debbie,you might take a look at the previous answer I left for Jordan. It should also apply to your Chevy Traverse.
Is this compatible with a Jeep Cherokee...
Is this compatible with a Jeep Cherokee Sport 1999? I have the roof rack (with cross bars) already on the Jeep... Any help would be appreciated. Thanks.
Hey ws45070108,

I checked with Yakima to see if the Yakima LoadWarrior could fit on your Jeep Cherokee Sport 1999 and I unfortunately found that it does not.

All is not lost though as you do have basket options in the Yakima BasketCase and MegaWarrior depending on what you have up on top of your roof:

If you have just a regular rook with no crossbars, then the MegaWarrior with either Q towers or raingutter attachment with crossbars will work.

If you have factory tracks running along the length of the roof, then all you would need would be the Control Towers with Crossbars. Then the BasketCase or MegaWarrior would fit.

If you have a full factory rack with crossbars, then neither will fit on top and you will most likely need a custom set up.

Sorry if this is a lot of info, but I hope it helps.
Will this fit on the factory cross bars...
Will this fit on the factory cross bars of my 04 Nissan Xterra without any additional purchases or parts? Also what bike racks fit directly to the load warrior for a roof top solution for my road and mnt bikes?

Thanks,

mh
I had a 03 xterra and I needed The mighty Mounts to fit the oversized cross bar.
I have an 06 subaru outback with factory...
I have an 06 subaru outback with factory roof rack, will this fit?
If you have the factory crossbars, yes. Yes it will. Huzzah!
I have a 2009 Subaru Impreza with oem...
I have a 2009 Subaru Impreza with oem factory roof rack. Does anyone know if this would fit that well? I had to send back a previous roof rack because of ill fitting.
Yes , this fits the impreza flat crossbars perfectly. Subaru racks are made by Yakima and are compatible with most yakima accessories.
My husband has a 1999 Jeep Wrangler Sahara...
My husband has a 1999 Jeep Wrangler Sahara and would like a roof rack for it. Will the Load Warrior fit his vehicle?
this is a perfect size basket for a jeep wrangler, but this is just a basket, u need a base rack and crossbars to mount this on.
Michelle, Wranglers require either a hard top specific rack, such as this one:

http://www.quadratec.com/products/92024_2000_07.htm

or a 'cage' of sorts for mounting a basket/rack on, like this:

http://www.quadratec.com/products/12028_7100_07.htm

which will also work with most soft tops, as well. Then once you have those, you can pick a basket such as this one to mount on the crossbars, which will be specific to each different type of rack/basket.
Installed on 2011 Nissan Xterra
Works perfectly when you need to haul some extra gear, and looks even better ;)
Awesome,Yakima LoadWarrior
Bought a Yakima LoadWarrior from Dogfunk. Great price and free shipping! Installed on my 2011 Jeep Grand Cherokee. Fits Great! This is my first basket for the rooftop, had a old rocketbox16 but it would not fit on my short Jeep rooftop. Slight wind noise, but basket is easy to put on and solid as a rock. This will enable us to pack more irregular shaped gear for tailgating.
This basket has been so helpful with my wrangler, going to and from college, up to the mountain and back, or down from Alaska to Colorado it has got the done perfectly! Add the net and you have one of the greatest external storage options available out there. I have mine on a Kargo Master Congo Cage that can hold up to 2,000 lbs, I don't put more than 200 in there so I don't roll over on every turn. I love this basket .
Do you need to get the extension for the...
Do you need to get the extension for the load warrior basket in order to mount a snowboard rack in the basket??
Yes. The rack as it is measures 44 x 39 x 6.5 inches, with the extensions, it adds 18" to be 62" x 39" x 6.5". 62"= 157.48cm. So if you're board is 157 cm or smaller, go for it. You could possibly add two sections to be 80"/203cm but that's almost 7 ft and probably longer than most roofs. If carrying a snowboard longer than 157cm is your main concern, just get a cargo box, you can throw all your winter and summer gear up there as well.


http://ep.yimg.com/ca/I/orsracksdirect_2108_11248510
Nice rack, especially because of the price
Assembly and installation is easy, instructions are adequate, looks good, finish seems durable, is in fact a roof basket which was what I was led to believe.

I should have purchased the extension, as well as the spare tire accessory since I put my spare tire in it which doesn't leave much room for anything else.

Dogfunk communicated well, shipped on time, and was the best price at the time. I usually give a 3 in a 5 star rating assuming the product is what it is supposed to be and the vendor does what they say, because a normal transaction isn't "A+++ the greatest seller evaaar!!!1!L!!" Thanks a lot ebay, hyperbole is now the norm. I gave this a 4 because of the price.