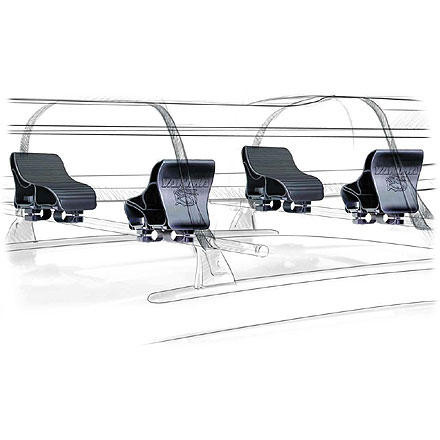 Yakima's LandShark saddles fit all popular recreational boats. Just slide your boat on, and the saddles grip firmly when you tie it down. The LandShark is quickly and easily installed on square or round crossbars, and is made of corrosion resistant stainless steel hardware. Yakima conveniently includes a mesh storage bag with the LandShark, should your rig get landlocked during the week. The LandShark is sold as a set of four, which holds one boat. Straps are not included.
Share your thoughts
What do you think of the
Yakima
LandShark - Set of 4
? Share a...
Unanswered Question
I have a Darby Extend-a-truck rack (2-1/4"...
I have a Darby Extend-a-truck rack (2-1/4" square tubing) and a Turbo rack (1" round tubing) on truck cab…will the land sharks hook up to this configuration? My existing foam blocks suck!
Land Shark ( not Chevy Chase )
Good quality product that is very affordable and has enough contact area to hold my Ocean Kayak 2 even in strong cross winds. Backcountry is a great company to deal with, too. Thanks guys.
Land Sharks mount to both Yakima and rectangular Thule-style bars, but you need Yakima's adapters for factory cross-bars, another $40 to $50, depending on the source. The Land Sharks are somewhat flexible, so they do conform a bit to hull shapes, but not much. Mine are over six years old, mounted on a Thule rack and have had heavy use. No cracks, fading or hardware issues. Something to be aware of is that on most mid-size and some full-size rigs, you can only fit one kayak on the roof using carriers like this. Your rig's width at the ground is one thing. After the cabin area angles in, the factory rack width is even narrower. For two kayaks with these carriers, you'll need the full-meal deal: Complete Yakima or Thule rack system with bars. Check their fit guides.
Relatively cheap and effective, but bracket info is somewhat misleading. For a factory installed crossbar expect to purchase an adapter. Also, no problem mounting one sea kayak on top of an SUV, but 2 just can't squeeze in.
Works better than padding or using the pool floaties. Glad that I spent the money = well worth it.
Unanswered Question
How far apart do the bars need to be to...
How far apart do the bars need to be to safely carry a 14" canoe? I have an extended cab (not to be confused with a crew cab) pickup truck I want to put my canoe on.
Unanswered Question
can these be set on roof rack wide enough...
can these be set on roof rack wide enough to accomodate a 36" wide jon boat?