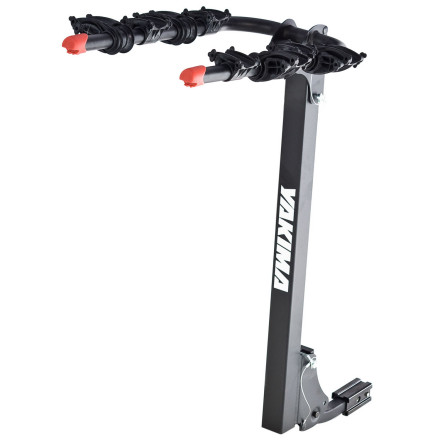 Detail Images

Community Images
We???re big fans of hitch racks. The waist-level height makes it easy to load and unload without fear of dropping the bike or inadvertently tweaking a muscle. And while early incarnations of rear-mounting racks, and even the strap-based models of today cause us alarm on occasion, racks like Yakima???s KingPin 4 Hitch Rack inspire confidence and make transporting your favorite rides as simple as can be.
One of our favorite things about the KingPin 4 is that when you???re not using it, the mast can tilt down so you can access a tailgate or hatchback. This is especially convenient on the four-wheel-drive station wagons that fill parking lots and trailheads. The arms also fold down via Yakima???s Quick Cam Lever so you don???t back an arm into your friend???s car window. One of the knocks on hitch racks has always been the swaying of the bikes, and the damage to paint and components that it can cause. Yakima addressed this with their SwitchBlade cradles, which use a soft rubber to better grab the top tube to keep the bikes from swinging against each other.
The Yakima KingPin 4 Hitch Bike Rack holds four bikes, and uses a 1.25in tongue with a 2in adapter, so it will fit either hitch standard.
This is a nice, cheap rack but unfortunately fits almost no bikes outside of standard road frames: The big, plastic parts really get in the way of anything but a standard frame - very hard to put a bike with suspension, a women's bike, or kid's bike on the thing. For S&C price, it's ok, but I ended up removing most of the SwitchBlade cradle apparatus to get the bikes on/off.
was a little nervous about the 2" adapter, but it turns out it works perfectly! while putting the rack on, it wiggled a little bit, but is super sturdy and tight now that it's been put on entirely. great rack!