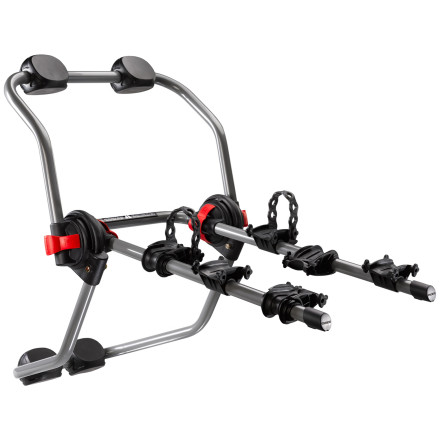 Detail Images

Community Images
Description
Your ticket to multi-bike adventures.
Bring friends and family along to local trailheads and epic riding spots with the Yakima King Joe 3 Bike Rack. Integrated StableCradles secure road, cruiser, and most mountain bikes, provided there's sufficient clearance with rear-suspension mountain bikes. And for bikes with sloping or funky-shaped top tubes, Yakima offers a separate TubeTop attachment, handily securing sloping cruiser and slanted road bike frames.
The rack's 90-pound capacity allows you to attach three of your favorite bikes, provided they're 30-pounds or less each. The QuickTrigger Hub system and folding arms easily attach to most cars, hatchbacks, minivans, and SUVs. Glass hatch hooks are included for stabilizing with hatchbacks. Moreover, tri-padded feet and coated metal buckles won't scratch the paint on your vehicle.
3-bike, 90-pound capacity
QuickTrigger hub system with folding arms
Tri-padded feet, coated metal buckles
Integrated StableCradles
Glass hatch hooks included
Unanswered Question
would this fit on a vw beetle (year 2000)? And would i be able to drive over 60 mph with a bike attached on my car?
what is maximum weight you can put on this...
what is maximum weight you can put on this bike rack?
Best Answer
Hey Bilal,



Max load limit with three bikes is 90 lbs total. Keep it mind it is best to keep the heavier bikes closer to the car.
Speedy
Familiarity:

I've put it through the wringer
This is a sweet bike rack, I really how easy it is to adjust and install and its totally out of the way when you do not need it. It fits almost any hatchback out there, it even fits my '78 Volkswagon bus! holds the bikes pretty secure, and its easy to get a bike lock and lock them all up to the car.

I like that its so easy to take on and off, if you are leaving your car overnight somewhere you can pop it off in 10 seconds and leave it at home, or stow it inside so it does not get stolen.



It holds the bikes pretty secure, you just have to be careful when you only have one or two bikes on there, if you accelerate too quickly they will swing out then hit your car, its not really enough to damage it, but its annoying, you really have to punch it for this to happen though.



I keep pretty good track of my gas mileage and have taken this on some long trips and have not seen any reduction in gas mileage, which you cannot say the same for a roof mounted bike rack. this one is also way easier to get the bikes on and off.



I am trying to think of any negatives, the only thing coming to mind is that I can no longer use my rear window wiper. which is not a big deal.



this is a great rack, quality parts and well built, I expect to use this rack for years and years
Will the Yakima King Joe Pro3 work on a...
Will the Yakima King Joe Pro3 work on a 2009 Subaru Outback Wagon (with spoiler)? Some illustrations seem to show it being used on a Subaro with a spoiler. Thanks
According to the Yakima website (http://www.yakima.com/shop/bike/trunk/kingjoe-pro-3), it will not fit.
Will this trunk rack work on 2009 Toyota...
Will this trunk rack work on 2009 Toyota Corolla?

If compatible, when is the best time to buy (at a bargain price?)



Ltashmoo
Ltashmoo,



This rack will fit your 2009 Corolla just fine. It's already on sale, so I would say order it now. Unless you wait until the fall/winter, you likely won't find it for much less.
Bought this for my 2005 Malibu Maxx hatchback. Holds 3 bikes just like it says! You will need an adapter bar for women's bikes though, so pick one up!



Once the initial setup is done, taking off and putting back on is extremely easy.
Will this bike rack fit my 03 convertible...
Will this bike rack fit my 03 convertible vw beetle ?
Nope, it will not fit on that particular make/model. For all compatibility questions you can use Yakima's easy fit guide here: http://www.yakima.com/fit/information/
Great rack for smaller cars, if you have the ability to fit more then three comfortably, then i recommend waiting for the King 4 to be on sale, which Backcountry usually runs a sick deal at 85 dollars. It has six straps that attach to trunk, so far it has not left any damage to edges. Fits hardtails best, but will work with rear suspension.
pretty much for hardtails only
Works great with hardtails or any full suspension with enough clearance to hang correctly. My newest full-suspension hangs badly and sways a lot at higher speeds. Wouldn't trust this rack with any bike that utilizes a rear shock right under the top tube, as many dw-link suspensions do. If you're a hardtail rider you're good to go, as the rack mounts easily, is incredibly stiff, and really does hold 3 bikes.
Will this rack fit my 2007 Pontiac Vibe?...
Will this rack fit my 2007 Pontiac Vibe? Many thanks!
It should work just fine.
Yes, it will definitely fit on your Vibe. For all compatibility questions, you can check Yakima's fit guide here: http://www.yakima.com/fit/information/
I've just purchased a Chevy VOLT --- can't...
I've just purchased a Chevy VOLT --- can't seem to get any info on a bike rack for it --- would this one work, or does anyone know a rack that would? Thanks!
Best Answer
Cindy,

It appears Yakima has yet to test and manufacture a bike rack for the Volt. However, Thule offers bike racks for the Volt. Visit Thule's website and use their fit guide to find the rack you need: http://www.thule.com/en/US/FitGuide.aspx#startApp
Will this fit the 2009 Toyota Highlander...
Will this fit the 2009 Toyota Highlander?
According to my Yakima rack book, this won't work for your car, sorry.
This rack is very good. It is far superior to another brand I bought and couldn't use. The difference is that this rack has superior build quality with superior materials, and it holds the bikes out from behind the car far enough that the bikes don't hit up against the rear of the car, scratching it as the other rack did. Highly recommended for a trunk-mount type of rack.
This bike rack is a little tough to start using, but once you get the hang of it, it becomes a 2-minute prospect.
Pay attention to every setup!
The rack secures itself very well to my 2006 Civic, however, the adjustable shoes for the bike frame slide when driving. My bike, which was firmly mounted before a 350 mile trip slid about 5 inches on one side backwards, tipping the front wheel into my muffler and melting a brand new $55 tire & tube. I intend to fix the rack with a pipe clamp, but will never again trust the front wheel on the inside most bike.

Conditions will be different for different cars-I got the rack because it seemed to have the softest pads on the car side (a Saris model made a mess of my trunk lid). The 4 straps on this model are easier than 6 individual straps (both for 6 hooks) and it installs in about 2 minutes. I am not a huge fan of the locking mechanism as it is the only cheap feeling part of the rack-it is sometimes hard to align the lock in place.

I purchased it at $124, it was worth it at that price.
The description above isn't 100% accurate. Don't get me wrong, this is a decent rack, but for only a little more money, you really should get the Quick-back 2 or 3. It is a much more versatile, stable, and convenient rack. It fits almost any vehicle and is the latest from Yakima. It keeps bikes further from your vehicle which eliminates damage especially from pedals hitting your car.
The King Joe 3 lives up to its name. It was one of the few racks that would fit over a spoiler and I can use it on my wifes mini-van. Very easy to install (10-15 minutes.) May be a little small to hold 3 large bikes but works quite well for two.
will this rack fit on my 2006 Kia...
will this rack fit on my 2006 Kia Sedona
, ☃bcs_badge_alumni_label☃
You are going to want to go to www.yakima.com and use the fit guide to determine if this will fit or not.
It sure will. There is a complete setup guide for all vehicles online and in the box.
This is what racks should be like!
I am somewhat dingy when it comes to technical stuff, I was hoping for a rack that was easy to install, easy to put the bikes on, and easy to switch from one car to the other. This rack is so perfect! I can do it all by myself and head for the hills, girl power!