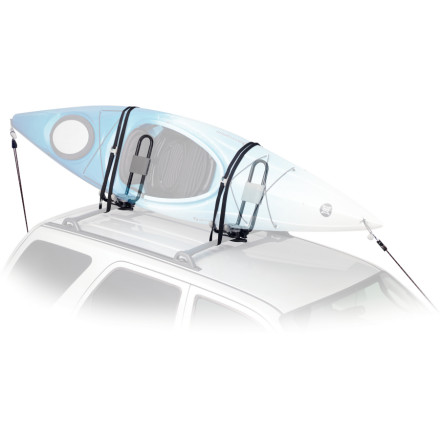 Community Images
Mount the Yakima Hullraiser Aero to your car's factory crossbars, and know that your boat will load up easily and ride roof-side with the security of a four-strap design. Traveling boaters on a budget can thank Yakima for realizing that not everyone wants to ditch their manufacturer bars. Ample padding and tie-downs hold your boat tight so it won't rattle around noisily or come loose and soar into traffic at 75mph.
J-shaped boat cradles have a smaller crossbar attachment footprint so you have more roof storage
Holds touring, whitewater, or recreational kayaks with equal security
Rack includes one pair of heavy-duty main straps and a set of bow and stern tie-down straps
Padded buckles on the tie-down straps keep your safe from sharp, gouging metal
Share your thoughts
What do you think of the
Yakima
HullRaiser Aero w/Tie Downs
? Share a...
I have a Mazda 6 (2011) with no roof rack...
I have a Mazda 6 (2011) with no roof rack what kind of rack will I need for my kayak
Hey Rich,

Please visit www.Yakima.com and utilize their fit guide. It is extremely easy to use and just takes a few minutes.
Works like you think it should
Just purchased and have not used many times, so I can't comment on durability although they seem sturdy. I bought racks to carry two kayaks on top of a 2008 Subaru Outback 2.5 XT using factory aero bars and everything fits fine. Current kayaks being carried are 13 footers.

These things work as advertised, allow you to secure the kayak with confidence. With padding and caps on the J-cradles and rubber bumpers on the tie-down buckles, they are easy on the boat.

Key Pros: Easy to install and remove, easy to secure kayaks (the included tie-down straps are nice and keep you from having to tie a ton of knots)

Some Cons: I think they are a little pricey given their simplicity, and there's no security measure to keep the kayak carrier on your rack (if that's a worry for you, you'll have to come up with your own way of cabling things together and then locking to the car somehow).
Bought two sets of these and they are great. They're pretty easy to install and take down. And they fit my wide factory bars (Nissan Xterra), which not all racks do. They hold my 12' recreational kayaks securely. I've taken them on a several hour trip on the interstate and none of the straps came loose at all. I do have one tie-down strap that is starting to fray--not sure why. The one thing that I do not like is how difficult it is to adjust the pads on the J-cradles. It is necessary to adjust these to make sure that your kayak is resting on the padding, but they are extremely hard to move. Overall I would recommend these as a good choice, especially if you have a Nissa Xterra.
How necessary are the bow/stern tie downs?...
How necessary are the bow/stern tie downs? I'd like to use it without them if I can, as they may be another hassle. Driving around town should be fine, but how about highway?
If you can get the straps to the hull raisers tight enough you won't need the bow/stern tie downs for short trips even on the highway. But if you are taking a longer trip I would use them for safety.
The included tie-downs are designed to be easy to use, no need to tie knots, etc. Getting them attached to kayak and car is pretty simple, so you might as well use them. If you do not use them, you can still get the kayaks secure enough for low-speed transport for sure.
To help clear some things up- They will fit your bars. I have an 07 Xterra, and they even fit the giant cross bars on that. To set up four (so carrying two boats) you will need 35 inches of cross bar or else they will hit at the top. They attach firmly to the cross bars, so you don't have anything to worry about. The rubber ends are very sticky and hold the boat in position nicely. I was pretty excited that they even came with the tie downs, and rubber coated cam straps, but the tie downs are already fraying in the middle of the webbing. All in all, the bars work great for the job.. but not too happy about the quality of the straps, which surprises me from yakima.
I know that it says this fits factory...
I know that it says this fits factory crossbars, but will it fit on the wide Subaru factory crossbars?
Best Answer
Yakima actually makes two different Hullraisers...the Hullraiser and the Hullraiser Aero. The Hullraiser Aero is made to work on any type of crossbar be it round, square, elliptical shaped, etc. due to it's Universal Mounting hardware. The Outbacks bars are elliptical but you should have no problems fitting the Hullraiser Aero on your Subaru. They will most definitely fit and work very well. However, the basic Hullraiser won't fit (will only fit on round or square bars). You will need the Hullraiser Aero.
The Hullraiser Aero will fit MOST factory bars. Certain factory crossbars like those found on the Nissan XTerra or the Toyota FJ Cruiser may not fit because they are ridiculously oversized. Check Yakima's website (www.yakima.com) to be absolutely certain for your vehicle. But in my experience (I sell car racks), I've never seen a fit issue with Subaru factory crossbars as long as you have the Aero version.
The hull raiser aero do not work well with the round bar you need to get the regular hullraiser for round bar. I have the Yakima round bar and had some hullraiser aeros and they do not hold well at all. They will slide back and fourth and the rubber grip underneath will come out allowing further movement during travel . I learned this first hand. I have since purchased the regular hullraiser mount to attach still not a super tight clamp down . The THULE bars and kayak mounts are much better. I have them on my second vehicle and no slippage issue and they hold tight.
Easiest kayak rack installation I've ever owned...wish I had them years ago, instead of fooling with crossbars and saddles & rollers. Boats ride very well and minimal wind resistance at higher speeds.