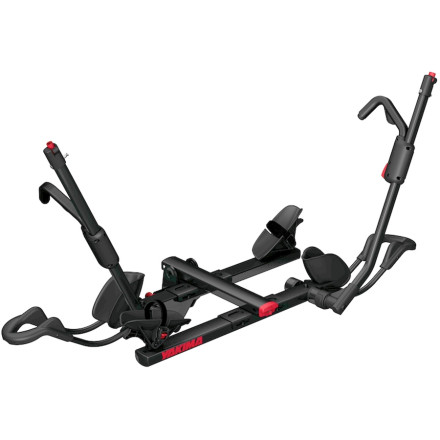 Colors

Videos

Community Images
Description
Know when to hold them.
Sure, you can pull apart your bike to squeeze it in the trunk, or sling it over the back of your pickup truck. The Yakima HoldUp Bike Rack – 2in, however, makes it easy to transport your bike, in one piece.
The HoldUp fits into a standard 2in hitch receiver. It sits low so that not only is it easy to load, but it also hides behind your car, helping to maximize fuel mileage. It holds virtually any bike, with the exception of tandems or recumbents, from 20 to 29inch wheels. The HoldUp comes ready to cradle two bikes, but may be grown to a four-bike carrier with an optional add-on. An included six-foot SKS security cable deters theft while you run into the store for post-ride suds, and an included bottle opener makes opening those brews a snap.
Fits a standard 2in hitch receiver
Carries 2 bikes, 4 with an optional add-on (sold separately)
Spring-loaded pin removes to tip the rack out of the way when not in use
Integrated locking cable and bottle opener
Great Rack!
Familiarity:

I've put it through the wringer
Relatively easy to assemble & install, snugs tight against the rear when folded up, and pretty easy to load & unload. I tote around a very expensive bike and after about a dozen trips, the rack has performed good enough to earn my trust. After my first few trips, I stopped every so often and checked how it was handling, but I don't feel I need to do that now. Contact with the wheels is snug - the straps have never loosened by themselves and the arm's grip has stayed solid. A cable lock is installed in each arm that can be used to secure your bike - these cable locks are at best a slight deterrent to a would-be thief, but they would slow them down and add a little extra security when traveling. When driving, the rack has very little sway and vibration. Hard turns, highway speeds, fast stops, and bumpy roads were not a problem.
Great to load and unload the bikes, but very heavy to move..in and out.
Awesome rack
Familiarity:

I've used it several times
worth the money. holds the bikes great, and it secures them quick and easy. I love it
I really wanted to like this rack...
Familiarity:

I've used it several times
I really wanted to like this rack... it's way more compact than competition and significantly more stable than other tray racks I've used previously.

After purchasing it though, I've discovered a few downsides... a) All the pictures and store models exclude the fact that there is a second stability pin involved on the right. Perhaps the second pin helps make it super stable, but I don't want to have to remove two pins every time I raise or lower the bike rack, b) after installing the rack, my OCD self realized the Yakima logo was upside down so I attempted to remove the horizontal bars only to discover that some of the locking washers already broke, and worse, two of the screws stripped out to where I couldn't remove them. At this price range we should at least be using decent metals.
So far the rack seems pretty stable, I wish the lock cables were a couple inches longer. The only downside is I have to remove my spare tire on my RAV4 to fit the rack, it fits perfect on my Subaru crosstrek though!
Spend the extra $75 and go Kuat.
Brand new out of the box and this thing rattles so bad my bikes wobble on the rack when driving. Also the rattle noise is unbearable. $450??? Hopefully Yakima will make good on this big fault and take it back.
Unanswered Question
Will this accommodate Snow Bikes?


I like it.
Familiarity:

I've used it once or twice and have initial impressions
Just purchased this rack so can't speak of the longevity but love the look & function. This is a huge upgrade form the cheap tray rack I wore out after 4 years. Nothing touches the frame and it tilts away so can get in the back of your SUV. If you have a spare tire mounted out back this will be a problem with any rack so plan on buying an extension. The locks are cheap so I use a big cable when I am away from the bikes for more then a few seconds.
Works, but not the best workmanship.
Gender:

Male

Familiarity:

I've put it through the wringer
I have a Yakima Holdup I bought new about 5 years ago. From a functionality standpoint, it basically works as promised. It carries any bike from a kid's bike up to whatever (pennyfarthings and unicycles excluded), and does not contact the frame. Occasionally I have to move the seat of 1 or 2 bikes, as a handlebar from the opposite bike will rub against it, but this is not a big deal.

As my model is several years old, it is not a locking model, but I find the locks that come with bike racks are basically worthless. Get yourself a monster chain & lock if you even remotely feel that your bike might seem attractive to thieves.



My main problems with this rack are twofold. The first, is that the main hold-down clamp for the front wheel needs to be compressed with significant force and enthusiasm. On a few occasions, I have had the hold-down arm come loose from the wheel, fall down onto the road, and drag along the pavement for a while. I never lost a bike, but one time one of my road bikes was found hanging on by the little rear wheel ratcheting strap...fortunately no bike damage! Just remember to really pounce on the front wheel arm when you're securing it to the bike. This looseness of the arm strikes me as a design flaw, but maybe Yakima has fixed it in recent years.

The other issue, is one of general quality of the rack. Although my rack still works, it just doesn't seem to have the same quality I expected from an expensive bike rack. Most of the attachment components are made of plastic, and in the case of the swing-arms, have seemed to stretched, and made the whole unit rather loose and floppy. While I have used this rack a decent amount over the years, I would certainly not call it frequent use. I store it off the vehicle, out of the elements, and in the shade, and generally take good care of all my equipment.

The red plastic bottle opener worked for about 3-4 bottles before the plastic was shredded beyond use!
For Wildernest owners, a heads up!
I have a 2011 Tacoma with a Wildernest topper, The length of the rack base doesn't get it far enough away from the back of the truck, so the 1st bike (closest to the truck) the handlebars hit the top of the wildernest topper above the window ( since the nest slopes backwards allowing for more leg room when it's set up vs normal toppers) So this wouldn't happen with a standard topper, so then the handlebars hit on the 1st bike causing it to lean out which then causes the 2nd bike to lean out too putting them both in compromising positions of stability on the rack.

You could probably have a extension made up for your hitch receiver to allow it all to work.

Otherwise the rack would have been great it's sturdy and easy to use.
The HoldUp is Yakima's fastest, easiest way to load bikes. Its beefed-up arm pivot makes it stronger than ever and the side-to-side adjustability reduces the chance for bike-to-bike interference. It's a road trip companion for life.
+ 2 Yakima Rack
Familiarity:

I've used it several times
Review for the +2 extension. Very easy to install and remove for the base Yakima rack. The rack is a beast with the +2 installed. Heavy and cumbersome. That said, it's very sturdy and does what it's supposed to do, hold two additional bikes. I leave the base Yakima Holdup (2 bikes only) on my SUV all the time. I install/remove the extension on an as needed basis.
Does anyone know if this will fill on a...
Does anyone know if this will fill on a Wrangler with the spare tire and still be able to open the back door?
You would likely need a drop hitch with some amount of extension. I have the Kuat NV rack (similar design different brand) and 35" tires and 3" lift. I found a 4" drop and 12" extension is just right. I am able to open the tailgate without tilting it down
Worth the wait!
Familiarity:

I've used it several times
When I finally decided it was time to get a rack I asked around and felt the Holdup was right for me. I also just missed the last one on this website. Apparently they move fast when their in stock. I waited another month until the next shipment came. I couldn't be happier with it. It's tough and is easy to load. My six year old can get his bike in it almost completely by himself. I would've waited twice as long for such a great product.