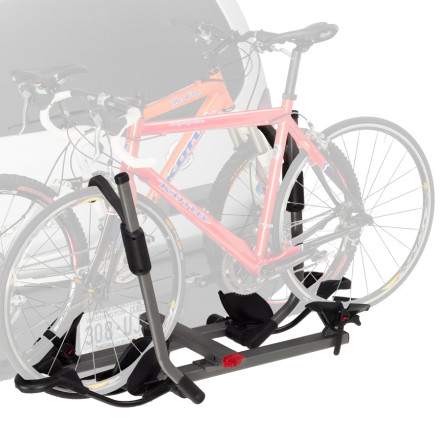 Detail Images

Community Images
If your definition of pumping iron doesn???t extend to the ???clean-and-jerk-the-bike-onto-car??? move, invest in the Yakima Hold up Bike Rack for fast, easy, low-effort loading of one or two bicycles. The Hold Up comes with the LockUp to secure the bikes to your rack when you hit the diner to fuel up on hash browns and bacon before a day on the trails. Yakima thoughtfully included an integrated bottle opener so you can pop a cold one after the ride.
StrongArm bracket securely holds bike of virtually any size without contacting the bike frame

Easy Premium Pin release enables tray to fold up when not in use

RocSteady hitch tongue provides a stable, secure ride for your wheels
Available in either 2" or 1 1/4" hitch receiver model (depending on inventory)

Fits bikes with 14-29in wheel diameters

Excellent bike rack
Familiarity:

I've put it through the wringer
Easy to follow instructions for assembly. I've mounted bmx to 29er with no issues. Not easy secured with cable lock if you have more than one bike on the rack. Have had issues with the mounting bolt at hitch backing off. The rack folds up out of the way when not in use. Very secure bike mount. Driven down extremely rough roads without worrying about bikes coming off the rack.
Unanswered Question
do you have the Yakima Hold-Up 2"
do you have the Yakima Hold-Up 2"
Secure and functional bike rack
This rack is very stable and my bikes seem plenty secure. The extension is nice because it allows you to carry 4 bikes. It fits great on my Nissan Xterra.
All I can say is I owned may different racks and you can not beat Yakima!
All I can say is I owned may different racks and you can not beat Yakima!
Unanswered Question
Can I buy an extender for this make/model...
Can I buy an extender for this make/model if I want to carry more bikes?
Great for cruisers (bad for locking)
This bike rack is sturdy and since it doesn't rely on the top-bar being straight or reasonably level, is great for cruisers. I have no worries about the stability of my bikes once on board. There is, however, no good locking mechanism. It would be nice if there were integrated locks on the StrongArm bracket (fully aware that someone could still just deflate your tire and steal your bike). Instead, you have to figure out the best way to run a cable through your bike's guts without leaving too much or too little length.
Best rack I've ever owned. Takes under 10 minutes to assemble, 1 minute to attach to your hitch, and about 10 seconds to load up each bike. Securely holds everything from my BMX to my 29er to my 50lb downhill rig, without them bashing into each other (even on bumpy roads).
I've finally replaced my 25-year-old...
I've finally replaced my 25-year-old mountain bike with a step-through hybrid, complete with fenders. Would this rack work, especially given the fenders, or what would be a good rack to go with. I used a roof rack all these years, but now don't want to lift my heavy bike that high regularly. Thanks for any advice.
I've used a similar style of rack on my city bike with fenders without any issues. This rack should serve you well.
Unanswered Question
Is this rack long enough for a XL 29er?
Is this rack long enough for a XL 29er?
Hello, Just received my Yakima Holdup...
Hello,

Just received my Yakima Holdup bike rack and noticed that is for a 1.25" and my RH400h has a 2" receiver. Is their a 2" option that I can purchase from Yakima?
On this model you have to order the correct receiver size. You can buy adapters at most bike stores or hitch installation shops.
CAN YOU attach the Hold up to the Versa...
CAN YOU attach the Hold up to the Versa Haul for motor scooter (has hitch)?
if it has a square hitch mount(of the correct size) it will work. Though local law enforcement might not like 6' of scotter and bike rack behind your car.
I really think this is a good product. I have had lots of experience with the T2 from Thule but I came across a good deal, (like the one here on this site!!!), on the HoldUp, so I went for it. Im running the 1 1/4" hitch option and it is sturdy with 2 bikes at around 30lbs. each. I think its a bit lighter than the T2 as well. It folds up all nicely but the only complaint I have is that is seems to wiggle a bit on the main pivot point when the rack is in the upright and unused position. I put a thick piece of rubber with adhesive back on a strategic spot to tighten up the wiggle, but I am pretty anal about that stuff. You might not care. All in all a great rack. Get one for you and all your friends if you got the dollars!
Great hitch stading rack. Mountain bike / road bike - holds like a mold! No rattles no stress!
Can I open the back of my SUV without...
Can I open the back of my SUV without removing my bike from this rack?
No you cannot access the back of the SUV with bikes on the rack because it does not tilt away while loaded. The Highlite, Doubledown, and the Bighorn can all tilt away in that manner.
Try the Thule T2, is tilts down to get access to the back of the car.
Spendy? Yes. One of the best bike racks ever? Yes. I have been running one of these for a few years now, and it has held up quite well. No worrying about what thru axle you're running or if you have your 29er for the day. This rack will hold it. It's solid, and it doesn't swing around much (Note: I am only running the 2 bike option not the 4 bike one). The bikes don't hit each other either. The hitch rack is the way to go if you're short or space out about bikes being on your roof as you pull into a garage. Plus it has a bottle opener! Simply put, this is an awesome bike rack. You're spending thousands on bikes, you might as well buy a nice rack and keep them.
Hold Up + 2 on the shuttle rig
The receiver on my shuttle jeep was mounted upside down to offer more clearance when my 4 bike hold up is loaded weighing things down. And while I questioned the included flag at first, the rack sticks so far out it's not a bad call. Besides, It call attention to how rad my rack is.
This rack is great. I love the hitch mount. When I had a suspended bike rack I lived in constant fear about losing my entire load on the highway and causing carnage. The easy way to just set the bike into the wheel slots and press down on the levered arm cannot get any simpler. And the rack can cantalever down further to get into the back of our minivan, so access to the back of the car is not restricted.