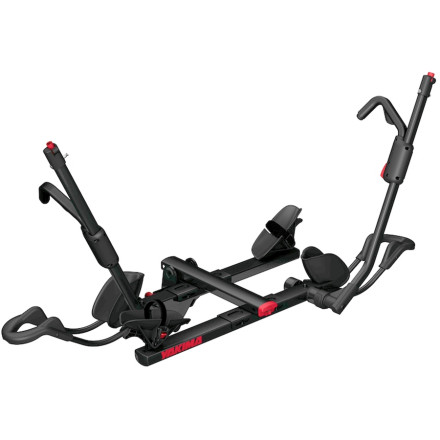 Colors
Description
Hold Up and get a move on.
One way to bring your bike everywhere you go is to ride it. That's cool, until you need to get somewhere really far away, in which case sticking your ride onto the Yakima Hold-Up Bike Rack is probably the better way to go. This bomber rack secures easily to a 1.25in hitch receiver and uses StrongArm ratcheting arms and solid ratchet straps to lock down your front and rear wheel, respectively, while a spring-loaded pin lets you fold the rack up when it's not in use or tilt it backward for easy hatch access. It will hold bikes with wheel diameters between 20in and 29in, and comes with an SKS security cable and lock cores to lock your bikes to the rack. There's even an integrated bottle opener so you can enjoy some refreshment after a hot and dusty ride.
Two-bike capacity
StrongArm ratcheting arms and rear-wheel ratchet straps
Tiltable and foldable
SKS security cable and lock cores included
Integrated bottle opener
A joy to use
Familiarity:

I've used it several times
After years of a hitch mounted rack that the bikes hung off of from the top tube, I decided to switch to this type of rack for the stability. The other style dinged up my bikes way too often and seemed to require too much jamming the bikes on even with only two bikes.

So far I LOVE using this rack. Its simplicity and ease of putting a bike on makes using it part of my bike trips that I actually look forward to rather than dreading. My bike is ultra secure and I dont have the nervous feeling that they are going to fly off of it at any minute. I've had two bikes on here at a time, a rather heavy comfort bike that my wife uses (approx 40 lbs) and my commuter / touring bike (approx 30 lbs) and its worked great with both on there. I usually use it for my Yeti 575 and that too is ultra secure. The tilt down feature also helps greatly to get into the hatchback of my Mini Cooper and tilted up, I often leave it on after rides for a week or so at a time.

As mentioned by another reviewer, I have noticed that the arm I use most of the time has gotten a little "clunkier" when ratcheting back and forth. That is a bit louder than the other and a bit more force to swing it back and forth. However, it has not affected performance as of yet. I also have had no issues with the swing pin. I cannot comment on long term durability yet (only had it two short seasons of use) but so far its held up very well.

I did lose the lock core piece that secures the bolt in the hitch mount but a single call to Yakima customer service and they had another one with matched cores out to me within a few days.

Barring any durability issues in the future, I would highly recommend this rack.
Not quite right for the job
Familiarity:

I've put it through the wringer
Having lost a bike off my vehicle's roof, I switched to the hitch mounted rack. At first, the thing worked as intended. After 6 months of use, it was evident that this thing wasn't made to last.



First, the lock pin that locks the rack in position was cheaply made. The ball bearing that secures the pin in place fell out after a few short months. The plastic pin that is connected via a wire to the locking pin to make sure the pin stays on the rack is useless as well.



Second, the arm that I use most frequent started to break down. Instead of moving smoothly, it started to grind and awkwardly click into place... You would often smack the bar arm against your fork in the process. After cleaning, tightening, and problem solving nothing seemed to work.



Bottom line, it will hold your bikes up. However, at the rate the thing started deteriorating I would suggest Thule or Kuat.
Yakima HOLDUP install video.
Yakima HoldUp Bike Rack Review
by mtbrvideos
Unanswered Question
Will this have an adapter to go up to 2...
Will this have an adapter to go up to 2 inch? I have one car that uses 1.25 and a truck that uses a 2 inch. I would like to use this on both autos.