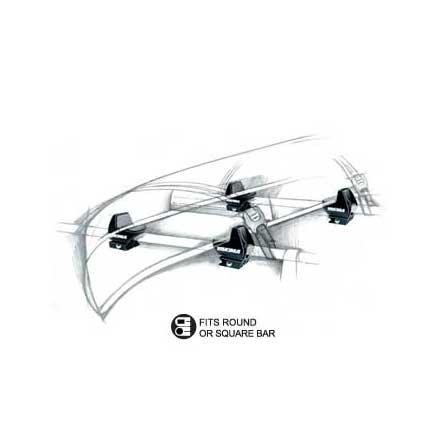 Community Images
The Yakima Gunwale Brackets set of 4 carry a canoe by the gunwales with a soft, rounded shape. Easier to load, thanks to rounded outer edge and lower height. Quick and easy to install on round or square crossbars. Long lasting stainless steel hardware insures the good times keep rolling. One pair of heavy duty straps with padded buckles included. Safe transporting is completed with Bow/Stern tie down straps-sold seperatly.
Holds my surfski
Familiarity:

I've put it through the wringer
Just what I needed to securely hold my upside down 21 foot surfski on the roof of my Outback.
Seriously - If you put big bucks into your watercraft - you should invest in transporting it safely and securely. These brackets will do just this. I have an '06 Nissan Frontier Crew Cab with a camper shell. Yak bars on landing pads front and rear. Between these gunwale brackets and the supplied tie-downs I don't even bother with bow and stern straps. I've traveled from CA to NY at 80 mph in high winds and never had a problem. Love the security. The rubber pads and soft tie-down straps do a great job of protecting my cedar-strip canoes finish.
I have a Yakima Copperhead rack on my roof...
I have a Yakima Copperhead rack on my roof already, will these brackets lift my canoe above my bike rack so I can mount my boat without removing it?
If your canoe is long enough and deep enough, in theory it should fit over the copperhead rack.
This is the second set of the Yakima Gunwale brackets that I have purchased so we can now transport two canoes. Installation is easy and fast. They work perfect and hold your canoe right where you want it. The included straps hold tight and do not loosen up like the less expensive straps. I would highly recommend this product.
Does anyone know whether the Yakima gunwale...
Does anyone know whether the Yakima gunwale racks will work on my 08 RAV4?
It should. An easy way to make certain is to go to the link up top that says build your own rack, but if you have round or square bars, this should work.
I also had to invert the gunwale brackets on my rack, but they work just as good like that, resisting any laterial forces on the canoe as you turn a corner.
Will this system work on a conventional...
Will this system work on a conventional pickup, on top of the cab?
Yes, But you should make sure the center of gravity of the canou is between your bar racks to avoid asymetrically loading one set. With reduced distance between bars on the cab of a truck you must have the bow and stern tied really securely.
They do exactly what they're designed to do. I use the Yakima Canoe Tie Downs, and my 17ft canoe doesn't budge, even on windy freeways.
, ☃bcs_badge_alumni_label☃
ladders or canoes
these are great for carrying ladders or other long objects on the roof, as well as canoes.
Gunwale Brackets set of 4
I put these on my Yakima rack system and they really work great, for securing my 17' canoe to the top of my truck. The straps that come with it our outstanding.
Not for all luggage racks
The brackets work well on conventional luggage racks but not on my Isuzu Rodeo.
They're compact and easy to use.