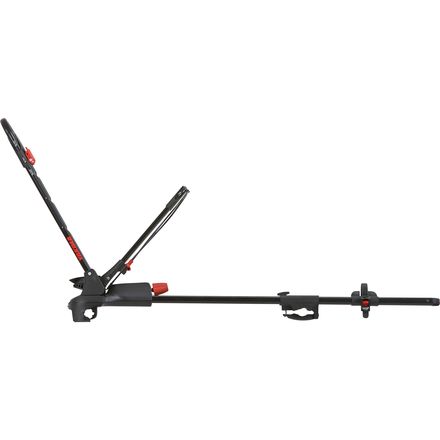 Detail Images

Community Images
Description
Leave the wheels where the wheels are supposed to be.
One of the biggest hassles with bike racks has always been taking off the front wheel, putting the bike on the rack, and then stashing the front wheel somewhere. Not only that—with a bunch of different front axle standards, you have to carry all kinds of adapters around. The Yakima Frontloader Bike Rack eliminates the hassle by allowing you to load the bike directly onto the car, wheels and all.
The Frontloader works with all wheels sizes from 20-inch to full-size adult road bike wheels. The only places where the rack touches your bike are at the tires, so you don't have to worry about it scratching your frame. It's also compatible with any brake system and any frame configuration, so you don't have to carry adapters around with you.
Wheels-on design
Only contact at tires
Compatible with any brake system or frame configuration
will this rack work for 27.5 inch wheels?
Absolutely! Fits wheel sizes 20"-29" with widths as much as 3".



If you have anymore questions feel free to send me an email or call!



Bill Porreca

bporreca@backcountry.com

801-736-6398
Works great on my sedan
Familiarity:

I gave it as a gift but have feedback to share
This is the feedback I received from my friend:

This rack works great on a sedan, and is a great pick for those of us without a hitch installed on our cars. The mounts are sturdy, and the installation was a breeze. Overall very happy with how this went on.



Everything looks good, and taking my bike out with it was great. I didn't worry anything was going to fall off, and loading and unloading my bike was fairly easy. The only down side is that now I need to get some locks as you can't really securely leave your bike on the rack while you run into a store or sit down to eat.



Overall very happy.
Will this work for a 29er bike?
Yes, it will fit wheels from 20-29" mountain and road bike.
Great for my 2012 Nissan Frontier!
Familiarity:

I've put it through the wringer
When I made the switch over to my Full-suspension bike that no longer fit into my truck bed with as much ease as my dad's hand-me-down hardtail... I started my hunt for a stand-up rack system.



I couldn't go hitch mounted because I am constantly in and out of my truck bed for my job and didn't have a factory roof rack. Most of the ladder racks require pulling out the utili-trac system from the bed (which I also frequently use...).



So I found a bed rail adaptor kit that really met all of my criteria (cpracks makes it). And found out that the yakima front loader makes a great fit into an unorthodox method of carrying the bike.



Bikes lock in nicely with minimal movement while in transport. The red knob that you tighten down over the wheel mount will spin pretty quick before it starts to engage any resistance so it can actually be tightened down pretty quick with a good ole flick of the wrist.



All in all, Very happy with it. Setup one side for my bike and bought the other side when the girlfriend wanted to hit the trails with me.
Great rack, 650b works on 26 mode
Familiarity:

I've put it through the wringer
I have 26 inch mountain bikes and a new 650b hardtail and I initially bought this so I didn't have to keep taking my wheel off like my other yakima rack, and because I didn't want to buy another 40 dollar fork adapter for a 15mm axle. Works well in 26" mode for the 650b bike, but you do have to push it down really quick before heading on the road. I have taken this on 150 mile trips on windy 60mph roads and everything. I use it every week and it works just great. It is really easy for me because I am tall but if I was shorter it would be a tad tough to load the bike. Great, secure rack
Works Great! With some quirks.
Familiarity:

I've put it through the wringer
I have this on my 2006 wrx and was glad to see that my tailgate spoiler would clear the rack (flipped it to have the rear wheel towards the front of the car). Adjusting for wheel size is easy. For a shorter dude like me it can be a little challenging sometime to get the rear wheel lined up with the narrow ratchet strap. One thing that is odd is that the ratchet strap is not long. I have 26x2.2 tire on regular rims and i can only ratchet it on one or two teeth, I imagine someone with a wider tire or rim would run into an issue here.

I also am not a huge fan of the knob to secure the front wheel gate. it probably doesnt take that long in reality but you have to try and spin this knob quite a bit to get the front gate to lay down flat. Seems like yakima could improve on this system.
Solid, Versatile Rack
Familiarity:

I've put it through the wringer
I've got two of these and use them around twice a week. I take them on everything from CA freeways to potholed trail access roads. I feel my bikes sway on uneven terrain, but I'm never concerned that they'll fall off. It takes a little practice to get used to loading and unloading, but it's intuitive and trustworthy once you get used to it.

While there is not a 27.5" wheel setting, I've found no trouble loading this size at the 26" setting. The High Roller 2.5's on my DH Rig fit no problem.

The rear wheel cam straps are short for the modern wide rims found on some AM/Enduro bikes. Easy fix with a longer strap, or just using your own cam strap.

Overall a solid build that has held up for me over time with no need for maintenance.
Easy and quick to use
Familiarity:

I've put it through the wringer
Installing to the car is quick and easy. Putting the bike on is easy since no wheel removal required, though do be aware it is on the roof and thus you have to lift the bike up there. Shorter people, cars with high roofs, or if you are just tired from your bike ride. Holds the bike securely, have driven with the bike on the roof for 300+ miles, even in serious cross winds. Wind noise is ok with it installed but no bike in place.



That said, durability of two key moving parts are questionable. First is the clamp for the front cross bar. Second is the tightening red knob to lock the front wheel in place. Both are screws and I've had both wear down over time and become very difficult to turn. The clamp one necessitated a replacement. The red knob can be ordered from Yakima (SKU: 8880226, $10) or possibly someone local.



Even with the durability issues, I'd buy again.
No Wheel Removal Required
Familiarity:

I've put it through the wringer
Probably the best part of this bike rack is the fact that you don't need to take your front wheel off to load it. Loading isn't difficult, but shorter people be aware that it takes a lot of height to stand a bike up on your roof. You may need a stool. Bike is held secure with just two simple clamps, and the locking cable works, but I wouldn't trust it to deter persistent thieves as it's very thin and could be cut easily.

Installation is easy, 2 minutes tops for reinstalls if you take them on and off a lot. Wind noise isn't bad, but gas mileage definitely takes a hit. I average about 28 mpg in my Subaru Impreza with two racks on (car is rated 27 city 36 highway), and closer to 30-32 without.

Overall great simple rack that holds bikes secure. Never have I been worried about anything coming off my roof. Price is a bit much, but they're on sale often.
Simplicity is best
Familiarity:

I gave it as a gift but have feedback to share
This thing was incredibly easy to set up and use. I gave this to my brother for his birthday for his Santa Cruz Blur and he absolutely loves it. It adjusts to fit different wheel sizes, doesn't rub or damage the bike at all, and is simple to install. Overall, I would say this is one of the most functional bike racks I have seen and would highly recommend for someone looking for ease of use in a bike rack. It also has SKS locks that it can be used with but must be bought separately to keep your ride safe while you aren't around!
Keeps your bike secure!
Familiarity:

I've put it through the wringer
This is a great rack that is easy and simple to use. Just fold out the front wheel support and then insert your wheel and then tighten the red knob. Throw the ratchet strap over the back wheel and you are ready to go.



It has adjustment clips so it fits all your different wheel options. Also with a twist of a couple levers, it comes off in second if you need to make room for something else on your bars. On one of the levers, there is a place to insert a SKS core lock so the rack can be secured to your car. And it has a wire attached to the rack that can loop around your down tube and lock with another SKS core lock so you know your bikes not going anywhere. The rear wheel strap has the opinion to open left or right so its easy to use on either side of your car. Only bad thing I can say is the red knob and clips will fade quickly in the sun but that doesn't effect function in any way. The suns bright and it can do that to things.



Yes it seems expensive but when it is holding your bike that cost a whole lot more, it is an easy choice to go with a nice rack.



Also just a reminder, with any rooftop bike racks, hide your garage door opener from yourself when you have a bike up top. Just that extra second of thinking can save you a lot of money!
Sweet roof rack
Familiarity:

I've used it several times
If you prefer to put your bikes on your roof, this rack is a no brainer. Sweet not having to deal with taking wheels off. Plus it's considerably cheaper that going with a hitch mount if you already have roof racks. Lock isn't fort knox but works as a pretty good deterrent.
2500 miles with no issues
Familiarity:

I've put it through the wringer
Attached with no hassle at all to the dealer equipped Yakima low profile roof bars that came on my 2009 Subaru Impreza. Drove from Virginia to Montana with my Kona Stinky in the rack and had no problems at all. Rock Solid!
the wheels are tiny. the fun, huge
my 26er, cradled safely by the Yakima Frontloader.
awesome bike rack
Familiarity:

I've used it several times
Using it in conjunction with Thule aero bars and it works perfectly. Simple to install and easy to throw my bike on it (I recommend stepping onto the back passenger floor while doing so.. you'll look super pro.) I've been using it for about a month and a half, and I have no desire to ever try cramming my bike into the back of my car again. Good stuff!
Easy install and even easier to use!
Familiarity:

I've used it several times
I just bought this rack after much debate about whether I was tall enough to put my bike on top of my Subaru and I'm psyched I did! The install was incredibly easy and simple. The directions were easy to use and intuitive, and getting my bike up there is a piece of cake too. I would highly recommend this to anyone looking for a user friendly rack that can carry multiple wheel sizes!
Unanswered Question
what is length of this front loader and...
what is length of this front loader and what is maximum width of tires this will take, what is the difference between this front loader and the high loader, looking for this to carry a DH mountain bike (Morewood)

cheers

ffyfe
Unanswered Question
Could this be modified or grouped with...
Could this be modified or grouped with hardware that would allow for use in my truck bed?