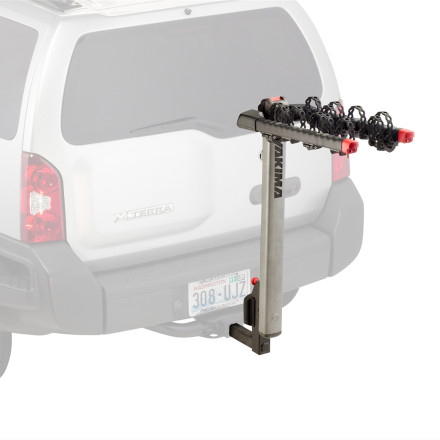 Detail Images
The classic shuttle problem???you can take four bikes to the trailhead, but you can't get in to the back of your SUV. This is not the case with the folding Yakima Flipside 4 Bike Rack. Once you unload this Yakima rack, you can fold it 90-degrees to the right and get into the back of your rig. The Flipside's support bars also fold out of the way when you're not driving around without a bunch of bikes on the back. Yakima didn't stop there either. They planned ahead far enough to even add an integrated bottle opener for trailhead celebrations.
There were mixed reviews on this rack, but it works pretty well on my 2012 Outback.
pro's - pretty sturdy, holds 4 bikes well, and when it is not being used as a rack it folds down pretty nice, even though it's still attached to the car.

con's - to get it sturdy a tool is needed, and therefore whenever I want to detach/attach I need to use a tool which also means I must have one in close proximity
- I cannot access the hatchback while bikes are attached, but you find that with a lot of racks anyways.....
Unanswered Question
does this rack with with the smaller 1"...
does this rack with with the smaller 1" receiver hitch?
Problem with phantom flipside while driving. Could be catastrophe. Assembly instructions are not clear.
Great Bike Rack - be wary of vehicle 'fit' list
Everything I've bought to date to carry all my gear around has been Yakima - until now.

I bought the rack after consulting the Yakima fit list for my SUV (GX470). The Yakima fit list said it would work, and once assembled and installed, I was unable to open the rear door.
Not because the Flipside didn't rotate 90 degrees, but the 'rise' of the unit from the receiver was the conflict.
After calling Yakima and discussing - they said the only consideration made when 'fitting' for a receiver on a vehicle - is if it will fit the 1.5" or 2" receiver - that's it.
Word to the wise - Yakima racks have a siginificant higher 'rise' than Thule. And with the side-opening door of the GX470, the only model I was able to find that allowed full access to the rear of the SUV was the Thule Revolver. (which is a nice bick rack!)
Love the idea of a bottle open! Question...
Love the idea of a bottle open! Question - it says that you can access the back of an SUV after you take the bikes off as it can fold 90 degrees, but can you fold it 90 degrees while the bikes are on the rack?
Best Answer
Nope, you can't. The 90-degree motion is more of a rotation (the silver arm pivots like a clock hand), so the bikes would just fall down with the arm. It has to be unloaded.