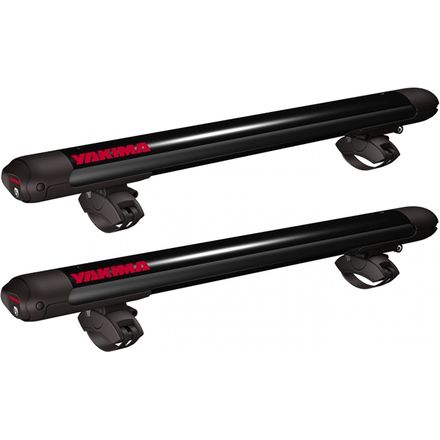 When the snow gods bless you with double-digit freshies, load your crew's skis and boards into the Yakima FatCat 6 w/Locks before you head to the hill. The DoubleJoint hinge system is specifically designed for fat skis and boards, and the included SKS locks ensure no one will make like a bandit with your prized pow slayers.

FatCat 6 will securely hold up to six pairs of skis or four snowboards
DoubleJoint hinge system is specifically designed to hold fat powder skis and boards
Included mounting hardware with an over-molded stainless steel strap fits most factory round, square, and aerodynamic bars
Included snap-around hardware allows you to mount the rack with aftermarket Yakima round or square bars
Included SKS Lock Cores to keep your skis and boards safe and secure
Integrated ski lift provides the necessary clearance for ski and snowboard bindings
Mirror black finish and the low-profile design looks great on top of your ride
Installation is quick, easy, and tool-free
Rack dimensions are 36 X 4 X 3 inches
Consult the Yakima Fit Guide for specific mounting information regarding your vehicle
Got another one
Familiarity:

I've used it several times
I got a new car so we needed a new rack. We had a Yakima before and new we wanted another one. Great quality, easy to use and set up.
Great Ski Rack
Familiarity:

I've put it through the wringer
This is the first roof rack I've ever used, but it's great. I've had up 4 pairs of fat skis and a snowboard on the rack with some creative loading. Install is fairly easy, I can get the rack installed on my crossbars in about 10 minutes. Wind noise overall isn't bad, but at times I've loaded things in a manner that made an awful whistling noise. Best guess is this happened between the plastic caps on either side near the hinges. A quick stop and rearranging of skis and everything was good, but it was LOUD.

Overall the rack does everything it's supposed to how it's supposed to. Wind noise is usually an issue with roof racks, and this one really isn't that bad. I like the decreased frontal area and increased gas mileage that comes with it. I'm averaging ~30 mpg in my 2012 Subaru Impreza right now in combined driving, not bad for everything going on on the roof (car is rated 27 city 36 highway).
Super Nice
Familiarity:

I've put it through the wringer
I've owned this rack for a year now and love it. Everything functions as it should... nothing too ground breaking. They hold your skis and boards securely, lock easily... what you'd expect functionally. Call me shallow, but what I love about this particular rack is that they took the extra step of painting (powder coating maybe?) it black. Most roof racks are just that boring raw aluminum finish. That's fine, but all else equal I think having the black racks looks a lot better on most cars. Functional, reliable, good looking... if you need a ski rack to put on top of your car, look no further.
Used HARD all winter. Loved it.
Familiarity:

I've put it through the wringer
Great product. Easy to mount, easy to use. Mounted on a jeep grand Cherokee. Took about 25 minutes to get it set up. Came with two lock keys. Very simple to load skis. I can fit 5 or 6 sets of skis very easily.
08 Outback
Familiarity:

I've used it once or twice and have initial impressions
With this rack you don't ever have to worry about equipment in the car. This rack does take a little more effort to install then the video above, but still a fairly easy set up. It's great the rack can tilt for snowboard bindings as well and not thrash the top of the car.

I do not hear any loud wind noise either for from these.



This product hits the mark on every point.
Yakima FatCat install video
Works perfectly
Familiarity:

I've used it several times
Picked one up for my new outback. Install is a little pain solo, but not bad at all with an extra set of hands. Locks work nicely, and buttons are easy to press even with thicker gloves. Holds fat skis like my 110mm waist howitzers, easily. Wind noise isn't too bad, but I only keep it on going to and from the mountain. The mpg decrease isn't horrible either, may be worse if you keep on for longer.