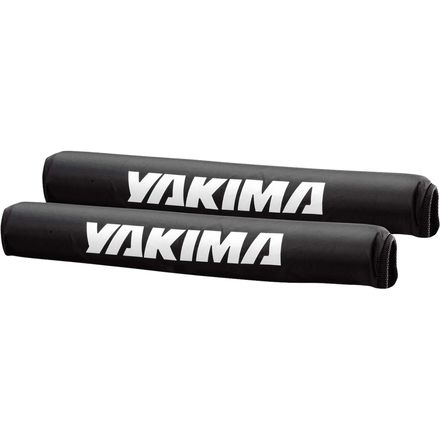 Description
Don't bang up your hull. Protect it with the Yakima Crossbar Pads.
Rigging your kayak to your roof can take a toll on your hull. Protect your boat with the Yakima Crossbar Pads. These simple pads wrap around your crossbars to protect your sea or whitewater kayak during loading and travel. The Crossbar Pads are especially useful with any rack that lets your boat rest directly on the crossbars.
Unanswered Question
How wide are these? My SUP/kayak hybrid is pretty wide, wondering if this will cover the wide part of the hull that touches the bar.
Even with a kayak carrier
I like this product. your bars are hard and they can damage your kayak, or board or canoe. If you have kayak carriers like me (Malones) then you know sometimes you scratch the bottom of the deck when throwing it up on the roof. With the cross bar pads you can toss it up there and not worry about the scratch and get a soft padded landing. That is how I use mine and with a separated shoulder I can't don't have the strength when lifting much weight over my head so this helps me out considerably.
Cheap easy surfboard rack!
These will fit great on Yakima or Thule bars, or even some "smaller" factory bars. I had them on my old Pathfinder bars, which were maybe 3" wide. The pads won't go all the way around wide bars, but you really only want to cover the top of the bar anyway, so you can just tie them on below, and they are fine. I use these pads, along with a set of tie-downs, to transport surfboards. Super cheap & easy way to move boards, boats, or anything else. Giving your rack the cushioning of these pads makes it much more universal, everyone should have at least one set!
Will this Product fit on my stock crossbars...
Will this Product fit on my stock crossbars for a 2000 GMC Jimmy?
Use the Rack Configurator at the top of the page to find out.
It seems the most damage my board suffers is from my car, loading, unloading. I don't fret too much about getting dings while I'm out in the water, but I always regret damage I do while just hauling the board around. These pads are a must if you love your board.
will the yakima crossbar pads, and strap...
will the yakima crossbar pads, and strap thang work on the thule exporter truck rack
will the yakima crossbar pads, and strap thang work on the thule exporter truck rack