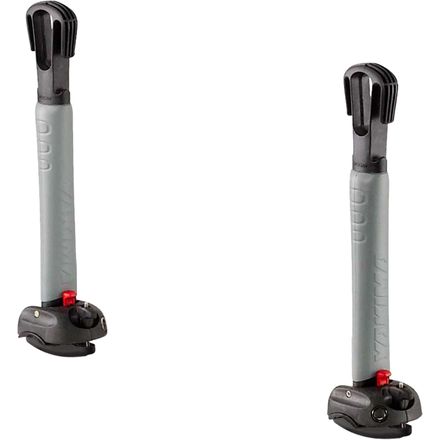 Community Images
Description
Save roof space.
The Yakima BigStack Boat Rack holds two boats in a vertical position to take up minimal space on top of your car, so you can also add a cargo box, bike rack, or another BigStack. When you're not driving around with sea or whitewater kayaks on top of your roof, the BigStack Boat Rack folds down to reduce wind resistance and increase gas mileage. This versatile rack works with Yakima round bars, square bars, and most factory roof racks.
Unanswered Question
Instructions from Yakima show loading two boats to one side of BigStackers. Seems odd not to load on both sides for balance and ease of boat removal. Common sense or am I missing a possible problem?
Easy on and off!
Familiarity:

I gave it as a gift but have feedback to share
. Gave this as a gift to my brother and he loved it! just what he need for his Necky Vector 14 kayaks said straps down nice and easy. He did say though to have a pad down on your cross bars to reduce the kayak from slipping. But works great with his factory Subaru Cross bars.
More boats for more fun!
Familiarity:

I've put it through the wringer
I don't actually own a pair of these, but my main boating partner has them on his car, so I have used them a lot. These work great and allow you to fill your racks with as many boats as your bars can hold. Being able to place your boats on their sides is the key that allows more room for more boats. A quick push of the big red button allows these to fold down out of the way when not in use no matter what shape the bars our that you have them mounted on.



Now the biggest advantage of these over the standard kayak stacker is the loop at the top. This allows you to simply thread your cam-strap though and tighten over your boats and your done. The standard kayak stacker works just as well for transporting boats. But as for the loading process, they only have a hook up top so once you get the boats and cam-straps in place, you always have to walk around the car to make sure the straps are under both hooks. If they aren't you loosen, readjust, and tighten again. The BigStack definitely saves some time.



Great product with the extra features that make things just a little simpler. I don't own them yet, but they are on my upgrade list in the near future!
AWESOME WHITEWATER KAYAK RACK
Familiarity:

I've put it through the wringer
Hey everyone if you are looking for a great kayak rack for you whitewater boats. This is the rack for you. Its very easy to mount on to your roof rack. Also all the gear is bomber proof. The cam straps that you get are great long stapes to you could use them both to strap in two boats. They are a little annoying because yakima put super protective foamie like stuff on them so it won't scratch your boat. But hey lets face it your whitewater boats have seen their share of rocks, sand , and the occasional slammin salmon. But for the construction of the racks they are durable and are able to withstand 2 boats and driving at 75 easily. Plus you can carry up to 4 boats or even more depending on how wide your roof rack bars are. When it comes to securing the boats its really easy to do. ITs to the point that one person can load two boats in less than ten minutes and still have time to enjoy an after run beer. All in all a bomb proof boat rack plus they fold down so you can squeeze more MPG out of your river going vehicle. Thats always a plus..
Important to know.
Familiarity:

I returned this product before using it
This is designed for small white water kayaks. Not suitable for rec or touring kayaks.
Works well
Familiarity:

I've put it through the wringer
I got this stacker to use on a trailer. We were looking for a system that would accommodate 1,2,3 or 4 kayaks, without breaking the bank. This ticked all those boxes. Easy to install & easier to use.
Does the Yakima BigStack Boat Rack work...
Does the Yakima BigStack Boat Rack work with a 2000 nissan xterra?
Hey,

Please use the configurator located at the top of the page or visit www.Yakima.com to ensure proper fit.
Hi, I have a 2002 Xterra and have had the Bigstack for a few years now, i'm very happy with it, i also bought the multi mounts for carring paddles. I already had a set of Yakima towers and crossbars, so i didn't have to figure out if it fit the factory rack, my only problem is i off road, so my X has a lift so need to take a folding stepladder to load my boats, lol and when the Bigstack came out it was sold as being able to carry up to 4 boats, it does, i only take 3 because my cross bars aren't long enough
Awesome, i cna fit two kayaks (probably more) but thats all i need.
Working great, it did come with 4 straps as well, which was awesome.
2 straps have fender guards to protect your car for the front and back and then two straps for the rack.
Aweosme product i would absolutely recomend this to anyone!
very impressed with these so far. Fits factor crossbars on my 4runner just fine. Although I'm pretty sure the manual I received in the box said it could carry up to 4 boats....
Does it fit 2002 Ford Explorer factory...
Does it fit 2002 Ford Explorer factory flat bar rack?
Best Answer
Hey Rob Jestadt,

Thanks for your question. I checked with Yakima and I found that it will depend on whether your 2002 Ford Explorer with Factory Crossbars is the 2-door or 4 door version. It will fit on the 4-door and it will not fit on the 2-door version.
I just got my roof rack last week and I'm...
I just got my roof rack last week and I'm considering getting a set of these for my kayaks. I was wondering would it be a good idea to get some kind of rack pad to go along with this, or is that unnecessary?
The pads will help the kayaks from possible slipping a little and thats if you don't really tighten it down.

I wouldn't go buy pads I would just use some old towels or something and if you feel as if the towels make a huge difference than look at purchasing pads in the future. No sense in spending money on something that "might" not be needed.
Unanswered Question
I own a 2007 Suburban Z-71 with factory...
I own a 2007 Suburban Z-71 with factory rack and cross bars. I currently carry 3 kayaks cockpit down on a custom built platform. The 12' & 14' are on the bottom, with the 10' above them on a "T" bar. Would I be able to fit all 3 edgewise with the big stack system? I want to be able to use the rear hatch at the same time. Would 2 of the systems fit on my vehicle?
Does this rack work with a 22' double...
Does this rack work with a 22' double kayak?
Best Answer
Yes, works with just about every style of kayaks including river, whitewater and recreational kayaks.
I have a 2003 Mazda Tribute with factory...
I have a 2003 Mazda Tribute with factory cross bars. I want to carry two 8' sit on top kayaks. Does anyone know how well the Big Stack might fit my factory cross bars?
Best Answer
Mounts directly to virtually all factory roof rack crossbars.
Works well on Subaru Outback Sport
I put this Yakima BigStack kayak rack on my '04 Subaru Outback Sport factory cross bars in about 15 minutes out of the box. I use it for 2 recreational kayaks, 10' & 14'. I can load them on the car by myself, but if my car was any taller it would be difficult. I would recommend this to anyone with a shorter car and cross bars.
I have a 2004 Land Rover Discovery with...
I have a 2004 Land Rover Discovery with no roof rack system, just the bars down each side and a rain guard. Which rack system do I want and would the BigStack be good for hauling two Kayaks?
Best Answer
I.e,
Check the "fit my car" link at http://www.yakima.com/ to see what options you have for your base rack system.
This option would definitely allow you to fit 2 boats on top of your vehicle. However, I must point out that this will be about the most difficult setup to load (since you must lift the boats to the center of the vehicle). And also, I would only use this setup for short carries because of how the boats rest directly on the bars. I break the rules and allow my boat to stay on top of my vehicle for days at a time, so I wouldn't dream of having it not cradled in something like a Hullraiser or Bowdown. But like I said, that's just me. Check my response to your other question for some options concerning carrying 2 boats. Good luck! Oh, and if Phil beat me to the answer while I was typing out this book, you can listen to what he has to say. He seems to know what he is talking about ;-)
Haha Phil, you buttnugget! Made me really work for that one!! Yeah, so neither Yakima nor Thule give dimensions for crossbars in their vehicle fit tools. I guess they figure all Discovery's have factory crossbars and that no one would ever want to upgrade them. Well after about 20 minutes worth of google-digging so as not to lose face, I found this link:
http://landroverforums.com/forum/showthread.php?t=10677
If you scroll nearly to the bottom, the guy states that 50" thule bars fit nearly perfectly (see his pictures). So that being said, in Yakima I would suggest going with Railgrabs and 58" crossbars. Allowing for 4" of overhang each side to tie straps to or sawing them down a few inches for a cleaner look if necessary.
Hope this helps! Thanks Phil :-P Haha
want to haul 2 kayaks on2008 chry mini van...
want to haul 2 kayaks on2008 chry mini van no roof rack ould like to haul 3 kayaks
Best Answer
You're going to have to do two things. First of all, you need a roof rack. Call Yakima and they'll tell you exactly what you need for your make and model of car (which you'll need to provide). Second, decide whether you want to haul two kayaks or three. You say both in your question, and you need to decide. And for god's sake, try to write a legible, coherent question next time. Maybe in the form of a real sentence.
Do you need extra saddles to carry two...
Do you need extra saddles to carry two kayaks?
You don't need saddles, just the normal straps and some bow and stern straps, although some bar pads do the trick to ease up on the kayak. I take my Jeep and two kayaks 70mph+ with this thing no problem.
I need to haul two kayaks on a 2004 Jeep...
I need to haul two kayaks on a 2004 Jeep Grand Cherokee with factory crossbars. The Yakima BigStack is very reasonably priced and would meet my needs. Would I need to purchase anything else to affix this rack to my Jeep or does the BigStack come with everything I need?
Best Answer
You will need the Mighty Mount 25H for it to be compatible. Look at the rack configure link at the top of the page.