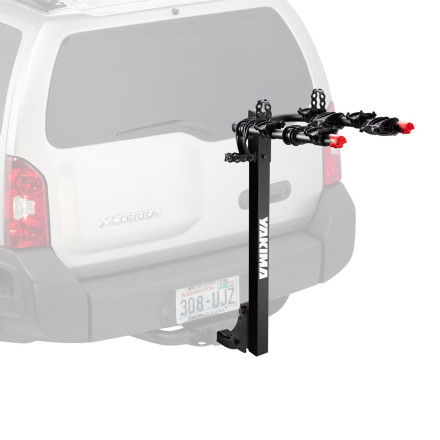 Community Images
The Yakima BigHorn 4 is an easy-to-use, sturdy four-bike hitch mounting rack. The mast folds down conveniently when free of bikes for vehicle access. The BigHorn 4 carries almost all bikes without needing top-tube adaptors. The SwitchBlade anti-sway bike cradles keep your bikes scratch free until you inflict your own damage on the ride. The BigHorn 4 holds up to 4 bikes, and fits a 2" or 1 ¼" receiver hitch. Optional accessories include the DeadLock System, QuickHitch, and PowderHorn ski and snowboard rack.
Share your thoughts
What do you think of the
Yakima
BigHorn 4 Bike Rack
? Share a...
Would this work well on a 2013 Mini Cooper...
Would this work well on a 2013 Mini Cooper Hardtop?
Hey Sang,

I don't know the exact specs of the Mini Cooper unfortunately but as long as you have a 2 inch hitch mount that has 3 inches of clearance from the hitch mount pin to the spare tire and a clearance of 10.5 inches from the hitch pin past the bumper then you should be fine. Here is a link that should help clear that up visually as well.

http://www.yakima.com/download/Yakima-Hitch-Fit-Tips.pdf
Unanswered Question
Will a Yeti SB66 fit on this rack?
Will a Yeti SB66 fit on this rack?
My Car Wouldn't be Complete.
I keep it on my car at all times. It bolts on so tight it deters most thieves. It works great and doesn't budge an inch. I had a similar rack by Yakima that was a MUCH earlier version. It rattled and rocked even with bikes on it. This one solved that! It is also quite compact. If I'm leaving my car sitting for multiple days I unbolt it and it fits nice and flat on the back seat.
Unanswered Question
Would this work well on a 24' RV?
Would this work well on a 24' RV?
Nice Rack - but my frame didn't fit
This rack seems well made and after I set up the whole thing (which was fairly easy) I tried to put my bike on it and the two bars were too wide for my small frame bike! I have a Specialized Jett, 17" - not even a kids bike and there was no way it would fit.
Unanswered Question
does this work well on a toyota sienna...
does this work well on a toyota sienna mini van -- van has rear hatch that raises up from rear fender (i.e., you can stand under the rear hatch door when it is open.)
WHAT THIS INCLUDES IN PACKAGE

CAN YOU...
WHAT THIS INCLUDES IN PACKAGE

CAN YOU EXPLAIN PLEASE?
This comes with the rack, the bike cradles, and chain straps.
This rack is perfect for 2 mountain bikes, diamond back Overdrive 29'er and a GT Avalanche. I think the fit is tight on a 2" hitch, the threaded bolt needs a 7/16 spanner or ratcheting socket wrench. The threaded bolt really sets the rack tight and stops any wobble. It takes about 30 seconds to put the rack on your car and probably 5 minutes to get your bikes on. The anti-sway bike cradles are stiff and hard to move and the rubber straps can be hard to undo. Great rack though and I trust my bikes on it.
Was able to get my 4 mtn. bikes on thought I know they rubbed each other, oh well their trail bikes. My big huge problems is the looseness in the hitch. I have a large truck and have to remove the screw in hitch pin to fit my receiver. The amount of play vertically is crazy, the whole thing bounces bad. I had to stop a few times after hitting normal road bumps and make sure the thin walled steel hadn't bent or worse cracked. It took a beating but so did my bikes. It needs to fit tighter in the receiver.
rack is great and very easy to assemble. does not allow you to open rear gate on the sport model when tilted, the spare tire hits the rack near the hitch...so you have to throw your gear in the jeep through the door...
Better to know that 4 bikes is describing 4 road bikes. There's no way to put 4 full suspended MTBs on the rack. However works very well with three. The strap system is safe and I recommend the optional Deadlock to free your mind when you stop to go to the Starbuck, halfway from the mountain. Great rack!
Unanswered Question
Write your question here...I have a Yakima...
Write your question here...I have a Yakima Bighorn bike rack. I am looking for some extra rubber straps that attach the bikes to the carrier. Do you have any?
sturdy piece of equipment
I love this rack, it works so much better than a roof rack in that i dont have to disassemble my bike, and when i roll up somewhere i am ready to ride.

I carries 4 road bikes fine, but i can only manage to squeeze 3 mountain bikes. Still a great rack for the price
Rack is easy to slide into the hitch and does fit in there a little loosely, but the threaded bolt holds it in well. Adds about 15 seconds to the installation time. A little difficult to get the bikes on the rack because of the anti-sway cradles; again adds about 10 seconds to getting the bikes on...

But my beef is with the make of the cradles themselves. What is with the hard plastic? I scratched my brand new bike in 3 places (the 2 top-tube cradles and the seat-tube anti-sway cradle) using this rack. The straps are rubber and stretch, which is good because I am forced to put a shop-rag between the bike and the cradle to prevent further scratching...

Get the comparable Thule, the cradles are rubber(they also fit a bigger diameter tube), so your bike wont get scratched up.
Anyone out there have a solution on how...
Anyone out there have a solution on how to make the Bighorn tighter in the hitch? Mine seems to be loose. Thanks!
I use an older version of the Thule SnugTight on my T2 rack. Instead of just having a pin going through the hitch, this is bolt, and therefore when you tighten it, you are essentially bolting the rack to the hitch. This makes a rock solid connection. I'm sure just using a bolt would work fine if you don't want to buy the locking device.
Will this rack fit on a 08 Toyota Rav 4...
Will this rack fit on a 08 Toyota Rav 4 with a spare tire?
I have a 08 Rav4. did you find a rack that fits over the spare tire?
I have some custom painted Electra bikes and took them to Florida this Memorial day. The rack is very sturdy, but gettin 4 bikes on without damaging or scratching them is impossible for me. I noticed that when you put them in the support clips that they would slip a little and even when I spaced them out I would stop to get gas and they had slid together. I have an idea that I am wanting to work on to remedy this problem. It is a little loose in the hitch as well.
This is my first trailer hitch rack. Easy to assemble. This rack is certainly made for adult male bikes. I was able to get my two young daughters' bikes and one of their friend's bike onto the rack with some puzzle-solving adjustments. Over-all happy with the rack. I would get it again.