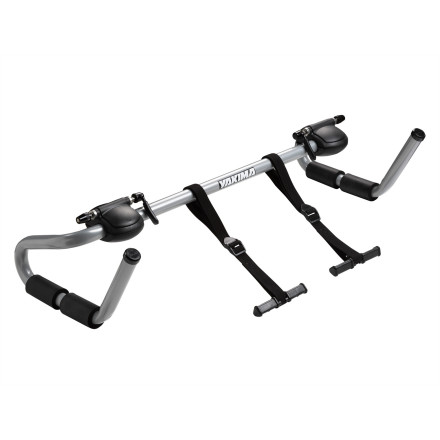 Detail Images
Install the Beddy Jo Bike Carrier into your truck bed. Two bike capacity. Intuitive bike mount that installs into your truck bed in less than one minute. With the stability of the Yakima Wonder Wedge there is absolutely no drilling required. Corrosion-resistant, heavy duty steel construction combines strength and reliability. Soft foam pads protect truck's finish. Yakima Beddy Jo Truck Bed Bike Carrier fits compact, mid-range and full-sized trucks. Fully compatible with bed liners.
I really liked this rack, and was impressed with the design. Super easy to install. Sturdy yet lightweight and compact for storage. Worked great with our mountain bikes and my wife's road bike. However, when I finally needed to use the rack with my road bike, I realized that I could not close the door of my cap due to interference with my brake hoods and levers. I would recommend this for use in an open truck bed, or on a limited basis in conjunction with a cap.
Unanswered Question
Is this system lockable? Do the bikes...
Is this system lockable? Do the bikes lock to the rack and then the rack to the truck?
Simple, affordable solution but not with a tonneau cover
This truck bed bike rack is easy to assemble, is simple to use, is well made and is affordable. You can remove it from your truck by just opening the tailgate. Nothing could be easier. However, if you have a tonneau cover, you might have a problem. Unless your tonneau cover folds or rolls up all way up to the front of your truck bed, you will need to remove it to have enough room for your bicycle(s). This was the case with my four panel folding cover. And if your tonneau cover is bolted in, this may be more of an effort than you might want to expend. This is the reason that I returned mine; I am replacing it with a trailer hitch mount bike rack.
Works as promised. It's obviously not designed to secure your bikes from theft (although you could always get a separate chain and lock), but it's very easy to use and store. The frame is solid and the straps are plenty strong...In other words, there's no flex and my bikes stay in place when I'm going around corners. I sort of wish they would put flat-wound springs on the skewers to keep the nuts centered...It would make it a little easier to drop the forks into place. Otherwise, no complaints!