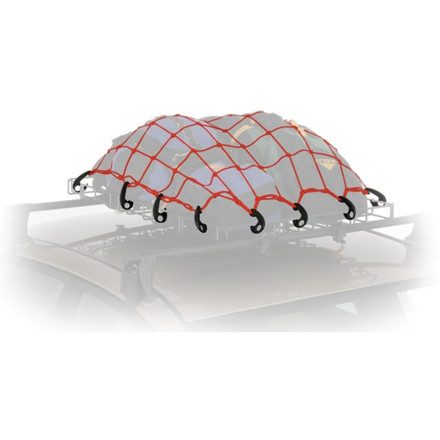 The oh-so-accommodating Yakima BasketCase Stretch Net conforms to your load and prevents roadside yard sales and desperately dodging traffic to retrieve rogue gear. Yakima designed this net specifically for your roof-mount BasketCase for a perfect and secure fit to hold wet or dirty gear out of the way for safe and civilized travel.

For use with the Yakima BasketCase and stretches to secure an 18-inch tall load
Durable heavy-duty elastic withstands rugged wear and tear, high speeds, and long miles
Versatile hooking system accommodates your odd-shaped gear
Yakima Part #07011
What do you think about this product?
Have questions about this product?
What are the dimensions? Will it fit...
What are the dimensions? Will it fit 14teeners basket by rockymounts?
Because this is a stretch net Yakima does not offer any specific dimensions on this item. This net is meant to be paired with the Yakima BasketCase, but I don't think you will have any issue pairing it with a Rockmounts 14teener basket.
This net is designed to best fit a 27 x 39 inch basket and will stretch to fit a load about 18 inches tall. The Rocky Mount 14'er is 43 x 53 inches. I actually think you would be pushing your limits with this net.