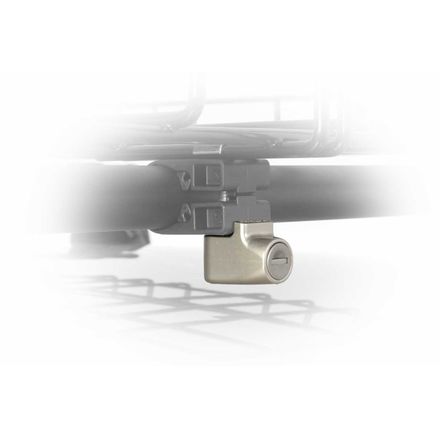 Description
Make sure that your rack is secure.
Yakima's SKS Accessory Lock Housing attaches to the SnapArounds that secure your BasketCase, boat attachments or any other Yakima accessory to your crossbars. This will prevent thieves from running off with your rack accessories. Use the same SKS lock cores and key that you use to secure your bikes and boats to your rack.
Highroller bike rack
Familiarity:

I've put it through the wringer
I installed this lock onto my Yakima High Roller bike rack. It took a couple minutes to install and no one has stolen my bike, so that's a huge plus. Well worth the investment.
thought that these were what i needed? but dont forget to buy the sks cylinders too?
Makes me feel better about leaving my Highroller on the car, since that rack won't lock to both a bike and the crossbars. Installs easily and feels secure, would rather not have to test it :)
Will this work with locking down a Thule...
Will this work with locking down a Thule Wheel-On?
Will this secure the yakima fairing?
Will this secure the yakima fairing?
Best Answer
NO!! This will NOT secure the fairing itself. It does secure the bracket to the crossbar but the fairing itself can still be removed. I used bolts (not Yakima provided) and nylock nuts to secure the fairing to the locked bracket (in place of the Yakima push-pins) ~~that probably will make it time consuming enough to remove that most any thief would look for an easier target.
i am buying loadwarrior yakima cargo basket...
i am buying loadwarrior yakima cargo basket and i have yakima basic bars already mounted i am looking for lock that i can lock basket for my bars whats my options can you show me all the locks that will work
, ☃bcs_badge_alumni_label☃
To lock and secure the cargo baskets, check out Yakima's locking bracket:
http://www.backcountry.com/outdoorgear/Yakima-Locking-Bracket/YAK0075M.html
Pricey, but an absolute must for making sure your valuable gear doesn't walk off without you.
Like others have said, it's pricey at $12 a pop, but for securing your even pricier racks/gear, it gives you peace of mind. I bought mine on here with a 20% discount, or else I would have probably gotten them off eBay.
The lock housings are a little pricey on top of the piece of equipment being purchased, but it's worth it in my opinion for peace of mind. Not having to worry whether or not your equipment is going to be stolen is worth it in my opinion.