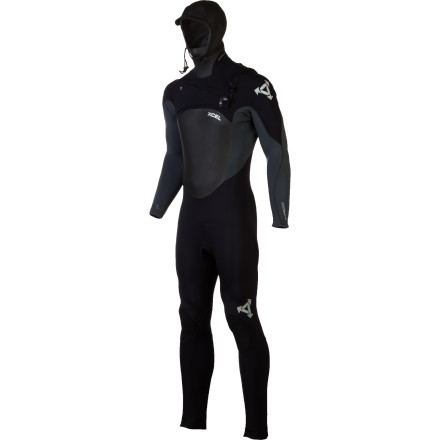 Detail Images
Equipped with booties and gloves and the Xcel Hawaii Infiniti X-Zip2 5/4mm Hooded Wetsuit, you're ready to tackle frigid surfing conditions. Its Ultrastretch fabric features a comfortable, lightweight neoprene with softer foam material and a tighter weave textile for less water absorption and better durability, while the Infiniti X-Zip2 5/4's heat-retaining and quick-dry ThermoBamboo lining (rayon from bamboo) provide eco-friendly vibes. To ensure stellar warmth and comfort, Xcel Hawaii gave this cold-water wetsuit Texture Skin technology for incredible wind resistance and a hood to shield your head, ears, and neck from the cold elements.
The Infiniti X-Zip2 5/4 has Fusion Seam technology which uses inner waterproof stretch Fusion taping to fuse seams together for maximum flexibility. Pressure-bonded glued and blindstitched seams are more durable yet flexible and have been finished with inner taping for improved comfort while you paddle and surf. To minimize flushing, the Infiniti X-Zip2 5/4 also has Taitex ankles that grip and seal.
For an easy in and out, this stellar wetsuit features X-Zip2 chest entry system. Its front entry is attached at the right shoulder to keep more water out while a SmoothSkin hem seal, pull cord/barrel lock combo, and a snap lock keep the zipper pull in place. In addition, overlapping inner front and back neck panels (underneath the zipper flap) stretch to allow extra wide, step-in-through-the-neck entry. Prebent knees and elbows supply an unrestricted fit while DuraFlex knee pads stretch with you and offer comfort when you lay on your board.
Ultrastretch neoprene fabric
Texture Skin
ThermoBamboo (rayon from bamboo)
Frigid surfing conditions
Fusion construction (glued and blindstitched, pressure bonded taping)
X-Zip2 chest closure system with hood
Crossover neck technology
Taitex seals
Prebent knees and elbows
DuraFlex knee pads