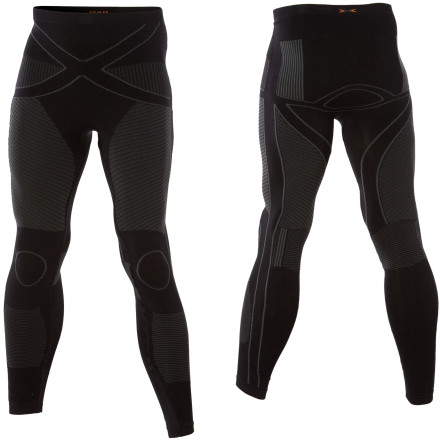 Detail Images
Perform better at your sport when you wear the X-Bionic Men's Energy Accumulator Long Pants. These bottoms have a complex matrix of insulation, air conduits, and sweat uptake channels that help you maintain an optimal body temperature without wasting energy to achieve it. When you wear regular old base layers, they constantly wick your sweat—which keeps you dry and prevents post-exercise clamminess, but you have to continue sweating in order to stay cool while you exert. The X-Bionic Energy Accumulator Pants allows a thin film of sweat to stay on your skin and channels air past it so you stay cool without needing to sweat more. Plus, these pants know when enough is enough and wick away extra sweat to be evaporated. These pants also apply light pressure to your muscles to reduce vibration for improved function.
No fly, but you'll want to fly with these
It's X-Bionic, so what's not to love, except maybe the price. But just wait to get them when they are cheaper, or get a better job so you can afford clothing that actually works for you. I got this variety last year and am still wearing them now. I went on two ski trips with these as my base layer, and just an energizer short sleeve for my upperbody, and everyday I was wishing I had some Accumulators on my arms!!! Best gear on the market, hands down. Wait for a deal that you can live with.
i'm a 5'11" male @ 185 with 30" waist.
i got small/medium.

i've done every training session in these since i got them. i like them a great deal. they are good at keep my legs warm, especially my knees in the cold.

very good wicking property.

they dry quickly as well.

they do sag a bit when wearing them. i periodically have to pull them up.

i used to use under armor cold gear, gave them to my girlfriend and use these. i like them more. they are 2.5x the price though.

in summary, good warmth and wicking capability - thats what i was looking for.

i recommend them.

also they look badass, like tron without the lights.
Unanswered Question
Hi guys, these x-bionic underwears look...
Hi guys,

these x-bionic underwears look great but seem to be very tight. Since I order online, it is possible to send them back if they do not fit well ? I guess that even though there is a sizing chart I would have to make a try before I find one that match me.

thank you.

Logan