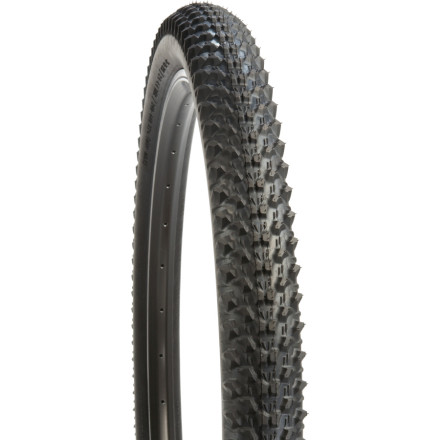 Like its Wolverine siblings, the WTB Wolverine AM TCS tire is a sure-footed gripper in most conditions. Its angular, staggered knobs are sure to bite when you want them to. Center knobs use a lower profile design for reduced tread squirm when you're upright and truckin' along at speed. This ensures a fast-rolling tire. When conditions get dicey and you lay the tire over into a loose corner, the progressively taller transition and shoulder knobs dig in, getting you around the bend without fail.
The AM TCS designation means that this tire is like Wolverine -- he's a blend of man and metal. This AM TCS Wolverine is a blend of the lightweight 60tpi Race casing and the superior sealing UST bead. You'll get the best of both worlds. Of course, you can run this tire with a tube, but you'll realize the most benefit when you install it tubeless and use liquid sealant to safeguard against punctures. It also features Inner Peace, a narrow strip of nylon inside the casing that does two things -- for tubeless applications, it stiffens the sidewalls and when you use tubes it reduces the chance of pinch flats.
The Wolverine AM TCS tire is available in 26 x 2.2". Its GMS dimensions are 54/52. It features a UST approved aramid corded bead. The fast rolling DNA rubber compound has a 60a durometer and is known for its performance and durability.
What do you think about this product?
Have questions about this product?
Just replaced a worn out Larsen TT on my rear with this Wolverine and have been happy so far. Seems to have similar performance to the Larsen. For trail conditions reference, I've been rallying it around Salt Lake/Wasatch Mountains, the Sawtooths in Idaho, and around Missoula, MT.