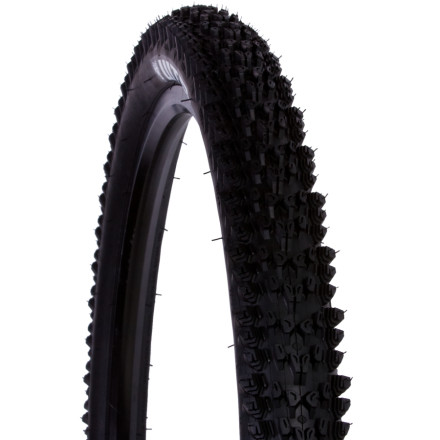 Detail Images
Blast into any turn and lean in with constant traction thanks to the refined WTB WeirWolf UST Mountain Bike Tire. Developed by Mark Weir for Super D dominance and epic all-mountain adventures, the WeirWolf rolls fast and grabs ahold of the trail, whether muddy, hard-packed, or somewhere in between, with confidence-boosting grip.
What do you think about this product?
Have questions about this product?
Well worth it at this price...
$32.48 for a UST tire in 2.3? Great deal and enough for me to try them instead of Ignitors. Overall I'm pleased.

The good:

Straight line traction. Climbing and braking are excellent. A noticeable difference over my stock Nevegals. I can stand and hammer much more aggressively and have to work harder to break the rear free.

Ride (perhaps due to the slightly larger size) is great and they stick very well to the rocks.

I've only had a couple rides on them so far but no cuts or punctures yet.

They seated up fine with a floor pump on Mavic Crosstrails and I'm currently running w/o sealant, no issues.

The bad:

The expected cornering grip just isn't there. They're ok, but I expected a large improvement and if anything I feel the front washes out more easily. I still have to play with pressures (running 35psi tubeless) to see if that changes anything.

They do lose more air between rides than tubes, dunno if that's typical for tubeless or not.



Note: The first pair I received had a leak/puncture in the tread which Hucknroll replaced instantly. Excellent service as always!
I've been riding these tires for about 5 months now with no issues whatsoever. I set these up on some non-tubeless ready Easton's, added some Stan's NoTubes and put these raw UST's on! The tires have been very grippy and have been great for the S. Florida trails ( Lots o' roots/Sandy/hard packed/man made obstacles ). I originally had a fear they might blow out since the rim isn't UST ready, but am now confident and am not holding back on the trails. Since I've had this new setup I've been taking obstacles that before were problematic. Steep inclines have become less challenging. 2 weeks ago I forgot to check the PSI's or add air, rode all day with no issue. Later found out I was riding at 24 PSI's!! That alone makes me trust this tire even more and give it 5 starts. These are the dirty dirt!
Not the tire you were hoping for...
My experience with this tire sucked. First out of the gate- it's NOT a 2.3. It's closer to a 2.1. the metric sizing is 52-559, while Specialized, Michelin, Hutchinson, etc. rate their 58-559 as 2.3's. This WTB was clearly undersized. It's got the chinsiest sidewalls I've seen on a "ust" tire. Thin, flimsy, NOT what you should get for a tire that costs 60 smackers. My second ride saw this tire blow out near a center knob going up a FIRE ROAD towards my ride in Santa Rosa. No glass, no thorns, a sharp rock maybe? Pretty embarrassing if it was in fact a sharp rock. Stan's sealed the rubber up after a couple attempts, and let me get to the fun part of my ride, kinda. That thin sidewall I mentioned made the rear feel like it was slip-sliding everywhere, while the tread was 100% unpredictable. I thought after my blowout that maybe I'd just throw a tube in the tire to see what I thought, but after riding on it for a coupla hours that day, I see NO reason to give this tire another shot. $30 dollars a ride seems unreasonable, but I simply don't want that rubber back on my bike. The one good thing I can say about it is that it rolls decently, and it's pretty light. I'm glad it's not on my bike anymore. I ride in very rocky to loamy to hardpack to slick, and I didn't see it excel in any of those conditions. In mud I think the tread would be packed more full than a fat kid at a buffet. Cheers!