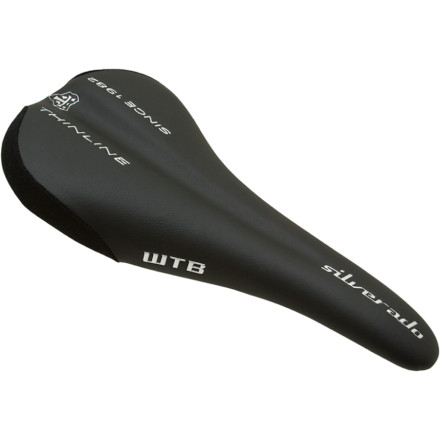 Detail Images
The WTB Silverado saddle is, much like the name, a western ideal. A great saddle for those who prefer a narrow, long seat that allows some positioning flexibility while not getting in the way. Sleek, like a fine horse. Light, like the minimal gear you carry in your hydration pack.
The WTB Silverado SLT saddle is a saddle designed for high performance mountain and road riding. There is WTB's trademarked Love Channel down the middle. The shell is nylon fiber. The shape is longer than the typical WTB saddle for greater flexibility for choosing in-saddle riding positions. The bumper areas have Kevlar material for greater abrasion resistance. The saddle dimensions are 135mm by 279mm. The rails are titanium. The cover is Black leather. 190g.
Long shape for more nose-use on climbs
Small cut-outs toward the nose of the saddle relieve pressure on sensitive areas
Superlight, dense padding with memory increases comfort
Strong titanium rails absorb vibration and keep weight down
Flex-tuned shell hangs out between super-stiff and Soft-Shell
looks great and saves your taint & g's
Familiarity:

I've put it through the wringer
Originally I was going to buy a fizik saddle that I used to have on a Cannondale team scalpel from 2007. I didn't end up w/ that saddle due to the vendor no longer manufacturing the specific color I wanted. I wanted to give this a try since my friend has a wtb saddle on his bike that I've road around a couple of times. I mtb and do a fair amount of climbing since I live in an area that has 0-9000ft in elevation changes on a good ride. The saddle I had prior to this purchase was a stock bontrager saddle. I've never been a fan of them. Reason why is that they always give me some nasty monkey butt on long 5-6 hour rides. I would snap a pic, but I would be crossing the line ;) I have since swapped that saddle for this and as a man feel like I've done my goods a favor. On those 5-6 hour rides w/ thousands of feet of elevation change, I no longer have that red burn in that certain area. That means no more evenings applying vaseline every 2 hours between the nutz and loaf pincher. I would not say this saddle is as long as a fizik, but for me it is very comfortable and ergonomical. Works well for a lot of pedaling and shifting around on steep technical business. Looks cool and is super light. I would buy again for another bike in the future.
Too small and uncomfortable
Familiarity:

I returned this product before using it
Seems fairly lightweight and just enough padding, but the profile is way too narrow for me. Really uncomfortable and had to return it.
Great, comfortable, and light saddle at a bargain price. I use it for endurance races and I have no problems with it.
I have this on my DH and slalom bike. It is absolutely the best saddle especially for DH. It has a fairly wide rear profile, which is perfectly suited for using the saddle during cornering and also through technical terrain. Low profile looks awesome on my rig and it's way light to boot!