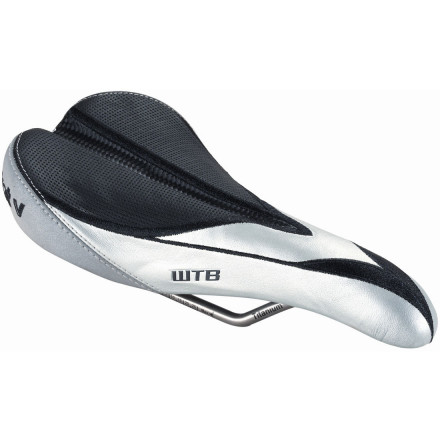 Detail Images
Who's going to argue with Steve Peat? The World Champ rides a WTB Rocket V SLT saddle. So maybe he doesn't sit down as much as the rest of us, but when he does, this is what he plants it on. This curvy saddle harkens back to the glory days of the Concor saddle, but has greater width and more padding.
One theory about saddle fit holds that the curves on saddles like the Rocket V SLT help keep one's body in the same position, being cradled in just the right spot. WTB people would also probably add that the width in the whale tail works well as an anchor point for those who like to sit back in the saddle when powering along. It has an embroidered leather cover (in contrast to the synthetic cover on the Team version) with reflective 3M rear corners and the DNA padding is ample enough to keep you comfy.
Dimensions for the Rocket V SLT are 127mm x 258mm. It is available in Black and Silver/Black. The SLT is the lightest of the Rocket V line and features titanium rails to help keep the weight down. 215 grams.
Classic Shape
Familiarity:

I've put it through the wringer
Have been a fan of these saddles for quite some time, the shape works well for me. Specifically a cross country rider, I have it on a seat dropper post. I find this is a great climbing saddle. Not the softest feel.
Not Bad
Familiarity:

I've put it through the wringer
Great product all around as other posts nailed it? Quality materials. Seems to clean up well. Personally would have it a little larger if I changed anything. Maybe need some extra real estate when you're 6' plus 200 lbs.
It's all I ride!
Familiarity:

I've put it through the wringer
I've tried damn near everything, because I'm mighty picky, but this is my all-time favorite saddle for MTB. Great shape, comfortable immediately, and light! Only complaint is that the shell's natural hammocking - which makes it so comfortable - means that the "rise" towards the nose can feel a little sharp when getting up on it in a technical climb. I'll take that trade-off for the all-day comfort, though. I dragged a red/white one from 2008 from bike to bike to bike, until it literally collapsed, and then I bought two more so I'd have a new one and a back-up. Suitable for any kind of riding, too. Rocket (V SLT) to the moon.
This seat is great. I wasn't sure how I'd like the shorter length and narrow width, but it is great for a trail bike when you are on and off the saddle most of the day. The leather is high quality and the Kevlar corners on the SLT model keep durability at a premium.
Comfortable
Gender:

Male

Familiarity:

I've put it through the wringer
I have been riding a version of this saddle for 10 years - originally highly recommended by the guys at White Pine in Park City. I was an early convert to a cutout, and so really like the feature. While a saddle is a personal choice, this is comfortable, and I have never had any chafing, saddle sores or discomfort. Excellent choice for the trail.