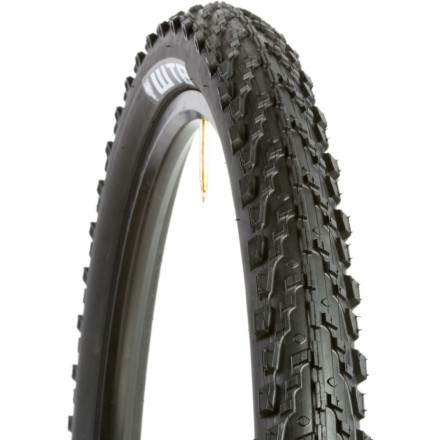 Detail Images
The WTB Mutano TCS represents the convergence of three of WTB's best-ever tires. It features the closely spaced center knobs of the race-proven Nano so it will roll fast on hardpack. Those that loved the Moto will recognize the familiar square-shaped transitional knobs, and the shoulder knobs are sure to keep you upright since they are direct descendants of the classic VelociRaptor.
As a mutant through and through, it's no surprise that the Mutano TCS features a high performance blend of their 60tpi Race carcass and UST approved beads. The supple casing is lighter than a UST approved casing because it lacks the extra layer of rubber used to keep the system super-air tight. We'd recommend the use of a liquid sealant for puncture resistance. The Mutano tire bead is folding, Kevlar corded, and UST approved so you know it will seal great for tubeless applications. The tread is Dual DNA, which has softer rubber on the shoulder knobs and firmer rubber on the fast-rolling center knobs. What you'll get is a perfect blend of durability and superior traction at high lean angles. Note that the 2.4 version also features WTB's Inner Peace. It's a narrow nylon strip that is placed inside the casing. It helps to give the larger sidewall more stability. You'll appreciate it during hard cornering and landing your favorite drops.
The WTB Mutano TCS is an all-mountain/all-conditions tire is available in sizes 26 x 2.2" and 26 x 2.4". The GMS dimension of each size is 52/52 and 54/54 respectively. 710 grams (2.2") / 700 grams (2.4").
How do I tell if I have the WTB Mutano AM...
How do I tell if I have the WTB Mutano AM TCS tire ( tubless) or the standard tube Mutano? The sidewall picture above is the same as mine, but doesnt say anything about TCS or UST or anything that might indicate its can be used tubless.
The AM TCS is a noticeable heavier Tire due to the Thick sidewall and beefed up Bead. I don't know what tire is pictured above (the pic might be wrong) but if yours is the AM TCS it will say it somewhere maybe not on the Hot Patch. If yours says nothing than you have the Race not UST Compatible.
It took a few rides to get used to this tire after switching from a Maxxis High Roller. The High Roller wasn't in stock in the size I needed so I decided to try out a new combo from WTB (I have the Wolverine on the back). Now that I'm used it, its feeling great in the corners, on the climbs, and seems to inspire a little extra confidence on off camber side hill. I'm riding it in the desert mountain west (SLC/Wasatch Mountains, Idaho/Sawtooth Mountains, and around Missoula MT).