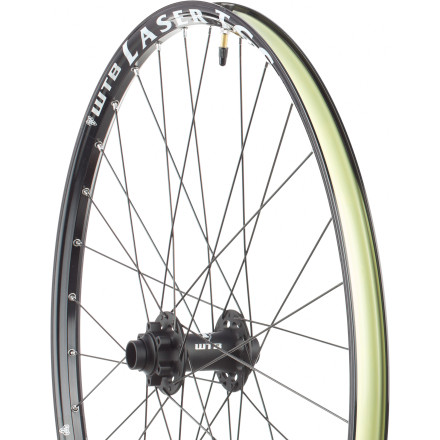 Detail Images
WTB designed the Laser TCS Freeride 26in Wheelset to propel you down face-melting descents that would turn other wheels into complex geometric shapes. The huge, 27.4mm wide DH and freeride-specific rims can handle some of today's fattest gravity-fed rubber, and the Laser TCS Freeride is loaded with punishment-specific features that set them apart from the rest of the long-travel crowd.
The most important of features, from a smashing-through-a-rock-garden standpoint, are WTB's proprietary I-Beam and Unbendium Bulge technologies. These innovations increase rim strength to directly counter mountain bike wheels' tendency to fold under hard hammering. The first, I-Beam, is a centrally located vertical support that counters spoke loads and provides torsional rigidity for increased strength and resistance to failure. The second, the Unbendium Bulge, is an aluminum rib added to the rim's sidewall that increases the rim's torsional, radial, and lateral strength to keep it from flexing under heavy loading or severe impacts. The weight gain is negligible. WTB has also put quite a bit of thought into its tubeless rim/tire interface. GBS (Global Bead Seat) design utilizes deeper grooves for the bead seats. Two raised lips lock the tire's beads into the rims to reduce burping under heavy torsional loading. The result is faster, more confident cornering at the ragged edge.
WTB's hubs answer to a higher standard as well. WTB builds its hubs around beefy and lightweight aluminum axles. The freehub body is also aluminum and has been machined to remove any excess material to keep the weight to the bare minimum. WTB also uses a clutch-pressure system to engage the pawls instead of a traditional spring system that can be gummed up with dirt and trail debris. This means quick, simultaneous engagement of all six pawls, as opposed to other systems that can rely on one pawl actually engaging at the moment of acceleration. WTB also beefed up its spokes with proprietary double-butted spokes. WTB adds a half-millimeter thickness at the j-bend, traditional spokes' weakest point, for a stronger, stiffer wheelset. WTB spokes are still lighter than traditional spokes, so they achieve the ideal of lighter, stronger, and stiffer.
The front hub uses a 20mm thru-axle, while the rear is a 150x12mm thru-axle.
What do you think about this product?
Have questions about this product?
Unanswered Question
Can i run the rear 12x142?
Can i run the rear 12x142?