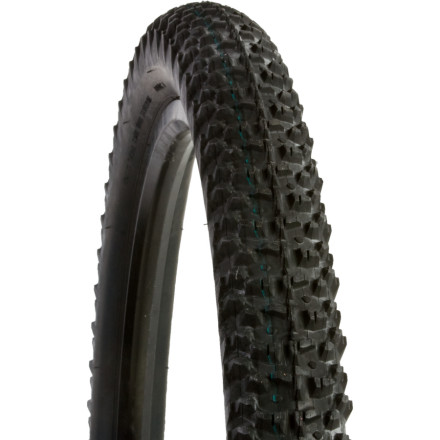 Detail Images
Tire choice is critical when it comes to going fast or feeling secure in loose or moist conditions. The WTB Exiwolf Race 26" Tire is the right tire when the footing isn't sure. The tall lugs are spaced wide enough apart to offer plenty of bite in loose trail conditions. While the void space and spikey knobs work to add grip, it's also beneficial when it comes to sticky or wet conditions. The tread design sheds goo quickly so you won't fight the weight or detrimental effects of buildup on your tires.
The Exiwolf Race Tire has an asymmetrical design that helps it bite into the trail at all times, no matter the lean angle. And like some of WTB's cross-country tires, it has a line of closely spaced center knobs for fast rolling on hard surfaces. The DNA rubber compound blends traction, performance, and durability as well.
The WTB Exiwolf Race 26 Tire is black, and the tread is composed of 60a rubber, which is soft enough to give when the ground is hard, but not so hard as to give everything away. A lightweight Aramid bead reduces rotating weight. 520g (1.95)/ 640g (2.1)/ 690g (2.3).
Application: XC
Ground: Loose Conditions