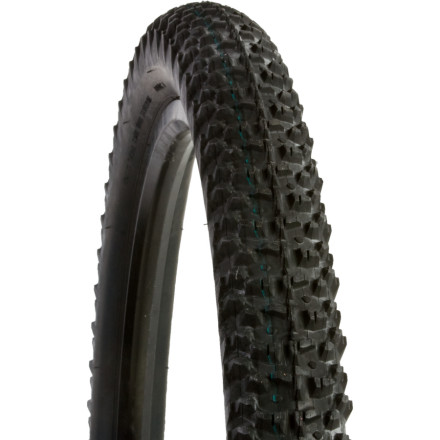 Detail Images
Tire choice is critical when it comes to going fast or feeling secure in loose or moist conditions. The WTB Exiwolf Race 26" Tire is the right tire when the footing isn't sure. The tall lugs are spaced wide enough apart to offer plenty of bite in loose trail conditions. While the void space and spikey knobs work to add grip, it's also beneficial when it comes to sticky or wet conditions. The tread design sheds goo quickly so you won't fight the weight or detrimental effects of buildup on your tires.
The Exiwolf Race Tire has an asymmetrical design that helps it bite into the trail at all times, no matter the lean angle. And like some of WTB's cross-country tires, it has a line of closely spaced center knobs for fast rolling on hard surfaces. The DNA rubber compound blends traction, performance, and durability as well.
The WTB Exiwolf Race 26 Tire is black, and the tread is composed of 60a rubber, which is soft enough to give when the ground is hard, but not so hard as to give everything away. A lightweight Aramid bead reduces rotating weight. 520g (1.95)/ 640g (2.1)/ 690g (2.3).
Application: XC
Ground: Loose Conditions
Unanswered Question
Does this tire fit Specialize Rockhopper...
Does this tire fit Specialize Rockhopper mountain bike?
I just put 14.15 miles on these tires and was very pleased with the way they performed. They hooked up on every climb and bit hard into every corner. I deal with a lot of loose sand and rocks, it did not phase these tires one bit. The best thing about them is they were only 45$ for the pair shipped.
Great XC / All Mountain Tire !
I've been running these tires since they came out with them by a different name. I'm an aggressive xc / all mountain rider in the Wasatch mountains. Previously a Moto-cross/ enduro racer, I'm very particular about the rubber under me, These tires have continued to impress and surprise me over and over again. They grip in all conditions, roll fast and are one of the lightest weight tire on the market.
I've got 3 rides on these tires, and I'm happy so far. Coming from nevegals I don't really notice any more or less grip, but they roll way better and have a cushier ride. Seem to grip well in a variety of dry conditions, especially sand. I don't ride in mud so I can't comment on that. Would purchase again, especially for the price.
i bought these to replace some really old tioga extreme xc's. these tires have a lot of bite and traction. they have yet to wash out on me yet even when im cookin into corners. im running the 2.1 front and rear and it seems to be working fine. no complaints. they roll fast when pumped up a bit higher but that takes away from traction so you have to find a middle ground.

for 18 dollars it was well worth the money!
if i buy this tire, will it come with 2...
if i buy this tire, will it come with 2 tires or 1?
The listing says "Tire", which means you get 1 tire.
I`ve been buying this tire in this size 26-2.3 for a couple years. Unfortunatlly WTB has stopped making this size. The last one I bought was undersized and was actually more like a 2.2 or a 2.1. Not to happy about it, if you have experienced the same let Gary Gleason at WTB know about it. maybe several complaints will convince him. The tire is a fast rolling tire thats great in everthing except mud.