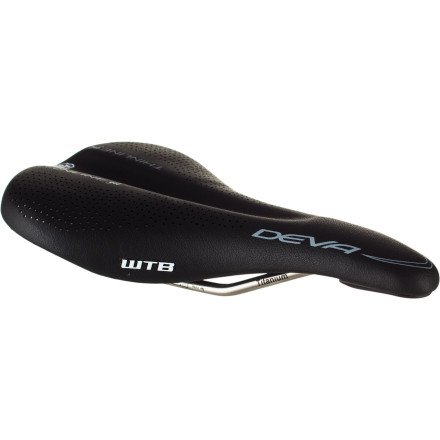 Detail Images
We don't like the name of this WTB saddle. When we read Deva, we hear 'Diva' which could be the most cliche term ever. Not WTB's intent, but that's what we hear. While women have been known to love this saddle because of its shape, we stress it IS NOT a women's specific design. It is a similar shape and identical dimensions to the WTB Devo, just with more padding. It gives a softer ride than the Devo. Maybe we should start pronouncing it 'DAY-va.'
Name aside, it's a killer cross-country saddle that has all-day written all over it. It will be comfortable for shorter digs, too, but knowing that something can go for an epic eight-hour ride and leave your posterior feeling fresh is a great mental comfort.
The WTB Deva SLT saddle has a thinline profile. There is WTB's trademarked Love Channel down the middle. The padding is Superlight DNA with gel packs under the sit-bones with a nylon fiber shell. The dimensions are 145mm by265mm. The rails are titanium. Colors available are Black and White leather. 230g.
Upgraded my Wife's saddle
My Wife loves this saddle. She has it on a Santa Cruz Bronson. After researching the internet I found this to be one of the most popular women's saddles out there. Saddle width is super important for comfort, at 142mm this fits an average sized backside.
It's not at all a squishy ride; but it supports your sits bones perfectly, keeping weight off other...ahem...areas not meant to be sat on. It's probably not perfect, however, it's the best I've found.
This is a pretty hard saddle that puts your weight on the bones for better support. My wife has both the SLT and the HP and she uses the SLT for road and the HP for MTB. High quality seats and I'm tempted to pick up a Devo for me.
i feel like i am contstantly falling off this saddle. the 2 rides i took on it were uncomfortable to the point of being painful. maybe my backside is just too big, but this saddle feels too narrow and the elevated part in back limits stability.
WTB Women's Deva SLT Saddle
In my opinion, the WTB Deva SLT is the most comfortable women's saddle RealCyclist carries. It is getting towards the wider side (though I have seen women's performance road saddles that are 155mm vs this one at 142). Because women have a wider pelvis than men, we will be more comfortable on a wider saddle. This saddle is certainly a big improvement over many men's or unisex saddles, though I still had a bit of "soft tissue pressure." I happen to prefer a wider saddle with a cut out. I do however think that many women will find this seat comfortable, and it seems to be well made and durable.