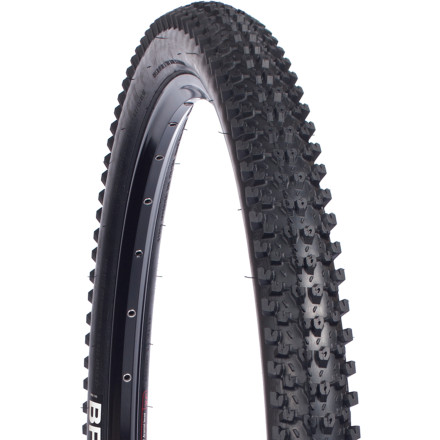 Detail Images
WTB has a loyal following for its tires, and with the Bronson TCS 29-inch tire, it's easy to see why. Sitting half way between the fast-rolling Wolverine and the aggressive Weirwolf, the Bronson tread pattern easily holds its own from bone-dry hard pack to slick mud. And in the tubeless-ready TCS variety, this is one of the most versatile pieces of rubber that you could ever mount up to your trail bike.
The Bronson's spirit lies in its progressive tread design. Built off the dry conditions Wolverine, it employs meatier side knobs, and a more open tread pattern, in order to provide extra grip and mud clearing ability. Thankfully, though, this was done without sacrificing the fast rolling that WTB's rubber is known for. And with this being the TCS version, it gets a dual compound tread pattern, softer side knobs that bite hard, and stiffer center knobs that enhance the life and rolling speed even further.
WTB has a history as one of the pioneers of tubeless tires, so it shouldn't be a surprise that the TCS casing takes the best parts of the UST tire standard, namely the meaty bead and reinforced sidewalls. The 60 TPI casing is responsive and smooth riding, and with an Aramid bead, it's highly flat-resistant, too. The result is a tire that comes in under 800g, only with the support and durability that you need for tearing up aggressive trails.
The WTB Bronson TCS 29-inch tire is available in the color Black and with a 2.2-inch width.
Awesome tire!
Familiarity:

I've put it through the wringer
I love that I can use these at much higher pressure and it sticks to the trail. Builds confidence on tight turns. Climbs like a mountain goat! Will definitely buy again!
ONE OF THE BEST ALL-AROUND TIRES
Familiarity:

I've put it through the wringer
I live and ride in Eastern WA/Northern Idaho...our trails are hardpack, tacky and smooth in the spring and loomy, loose over hard in the summer...very little mud but I look for an "all-around" tire.

I have ridden just about every company's tires (Specialized, Maxxis, Schwalbe, WTB...).

I LOVE WTB tires and saddles (specifically, the Silverado)!! I came to the Bronsons after a bad experience with Schwalbe's Racing Ralph (rear) and Nobby Nic (front). I felt the Schwables has a small window of acceptable tire pressure and I was crashing on them...a lot....maybe my fault, maybe not...but I was losing all confidence and needed a change. I conducted A LOT of research before deciding to roll with the Bronson. Perfect for my needs.

It is perfect compromise for all of my riding conditions. It feels bigger than 2.2, it hooks up well in any situation, has a fairly low rolling resistance and big, siped side knobs that dig into just about anything. They cut right through the loose stuff and grip into the hard surfaces underneath.

I have both race them, ridden them on my xc hardtail and on my 5" travel full suspension trail bike and they have tackled everything I have thrown at them. They may not be the most durable but that depends a lot on the conditions you ride them in. Buy them, you won't be disappointed!
Solid, reliable tire for most conditions
Familiarity:

I've put it through the wringer
I've ridden these in mostly dry condition, mix of single track and fire road and lots of loose dirt over hard pack. Reliable and predictable. A bit heavy but you can't go wrong with this tire. I'm running them tubeless and have yet to flat them. I weight 140lbs and ride a 29 hardtail. Probably not putting these tires through the punches like some do in Utah, Colorado and other places with rocky trails. Unlike, others on here I found the tires VERY easy to mount - of course, that's to be expected when they're being mounted on WTB Stryker wheels.
They rally.
Familiarity:

I've put it through the wringer
Like the other two reviews said they do take some elbow grease to get on (actually, dish soap to be more specific), but once on they rally. Pretty aggressive tread pattern, but they bite when you're powering up steep climbs and corner well on the downhill.
Confidence inspiring
Familiarity:

I've put it through the wringer
These are great tires for all mountain riding. The side knobs are pretty chunky and help keep you on your line through tight corners and loose/ sandy sections of trail. I've only had a few brief encounters with mud but never had a problem with the tread getting gunked up. I have to second Natalie's comment that the beat is really tight and hard to get mounted on your rim, but it's not an issue once you get them mounted. I've had about a season and a half on mine and they've been holding up really well. I wouldn't hesitate to buy these again
Really Good Tire
Familiarity:

I've put it through the wringer
This is my 3rd set of these tires. they are a great all-around tire. They are a bit meatier then the WTB Wolverines but, according to the WTB web site,

they are a little lighter. They wear well and last quite a while. On the other hand, I have noticed the bead on the tire is very tight. Much tighter than other tires I have used. As a result it can be difficult to get on.