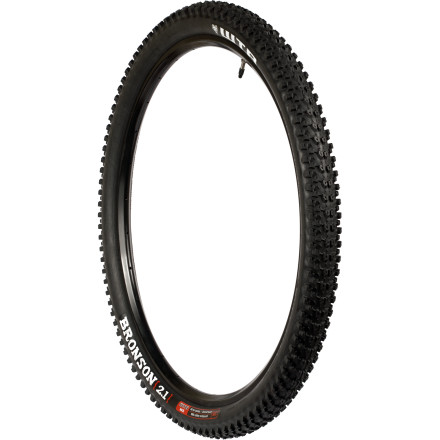 Detail Images
Upon first glance, WTB's Bronson TCS Tire looks to be similar to their Wolverine XC tire. Indeed it is, yet it has small differences that make it a different beast. Both share a general swept tread pattern, some might call it a chevron. The knobs on the Bronson are swept back at a gentler angle than the Wolverine, and they have notches that allow them to conform to a multitude of trail surfaces, from loose to hardpack, from wet to dry.
On hardpack trails, the notched lugs can deform to offer up a kung-fu grip on semi-solid surfaces and rock. On the other end of the moisture spectrum, the Bronson's tapered lugs shed sticky mud well enough to get you through it without caking over and becoming a slick. The Bronson has ramped center lugs to roll with minimal loss of speed. Their shape is again similar to the center knobs on the Wolverine, but where they differ is the spacing and that the knobs on the Bronson differ with regards to the width of their spacing. Here they're phased in an alternating pattern of wide then narrow. The height of the knobs increases from the transition knobs to the shoulder knobs. This gives the tire a predictable feel when you begin to carve into shallow lean angles in fast corners. The tread was designed to optimize performance along with WTB's Dual DNA rubber compound that's firmer in the center to accentuate the fast rolling tread and softer on the sides for awesome cornering traction.
The WTB Bronson TCS Tire has a tubeless compatible system bead, specifically designed to work with UST style rims. The combination of tubeless capability and WTB's lightweight Race casing makes the Bronson a great XC tire. It's light enough to race fast, but beefy enough to offer up real traction for backwoods adventures. The Bronson TCS Tire is available in two sizes -- 26 x 2.1" and 2.3". The actual weight for the 2.1" tire is 608 grams.
TCS tubeless compatible system bead allows use with UST rims for a lightweight tubeless setup
What do you think about this product?
Have questions about this product?
Great Grip and Easy to Mount
I love this tire. I use it as a rear tire. It was really easy to get the bead to seat tubeless with a floor pump.
I use the 26x2.3 Bronson on my Yeti SB-66 and absolutely love it for everything from all-day trail use to light freeride and lift-serviced duty. The tire spreads out nicely on a Stan's Flow rim and seals super tight. I threw a bit of stan's in about a year ago and never have noticed any leaking. I ride in Park City mostly and these tires have held up great over our combination of buff single track and super dry rocky trails.