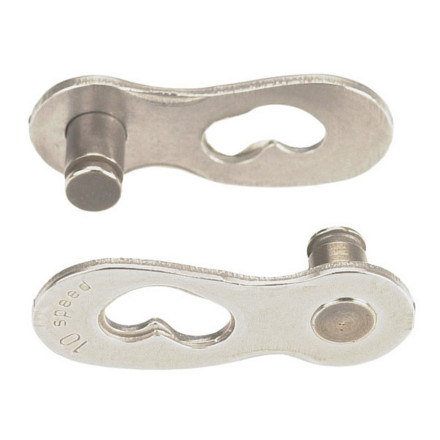 We offer this ConneX 10-Speed Stainless Link for Wippermann 10-speed chains. In fact, it's compatible with all 10-speed chains. This connecting link allows you to easily connect/disconnect your chain for cleaning. It's also handy to tote around in your saddle bag in case you have a mid-ride chain catastrophe. You'll be able to make your chain whole again without having to use any tools. The Wipperman ConneX 10-Speed Stainless Link is 6.1mm wide.
How many chain links included?

only 1?
One set of links is included in the package. Let me know if you have any other questions. btowery@backcountry.com
Unanswered Question
Can I use the link on a Dura-Ace CN-9000...
Can I use the link on a Dura-Ace CN-9000 chain?
how many times can you remove and reinstall...
how many times can you remove and reinstall this link?
These links are multi use. I am not aware of a specific number of times that you would want to reuse the link specifically. I have used one in the past on 2 or 3 chains with good results. I don't think i would recommend multiple use beyond that.
There is no limit. I work at a bike shop and we always encourage our customers to purchase these with new chains (usually during a custom build). We also use them on all of our personal bikes. I'm a bit of a clean freak so I'll take mine off once a month or so for a deep chain clean. 12 months in and I haven't had any issues.



I think the answer above is about how many chains you can use, not how many times you can remove and reattach (some brands are single use).
Very easy to use
Familiarity:

I've put it through the wringer
The Connex master link works very well (when installed in the proper orientation). This link can be easily disconnected without tools but will not disconnect in normal use. It is an clever design. This allows easy removal of the chain for a thorough cleaning which will increase the life of the chain, cogs and rings. I have used this link with a Connex 10S1 and with a Dura Ace CN-7901.



Tip: if the chain seems to jump out of smallest cog, then the link misoriented. If the link is on the run of chain above the chain stay, the mounting holes will resemble a "V" or look like a heart; also the mounting holes of the outer link plate will be the leading portion of the link as the pedals are turned in the forward direction. This orientation will insure that the "bump" side of the link is not the side that contancts the rings/cogs. If this bump is on the side that contacts the cogs, then the chain will tend to jump in the 11 tooth cog. Here is view of the link correctly installed:


Great links........
Familiarity:

I've put it through the wringer
I use to run Wipperman chains and their master link is much easier to get off by. hand than other brands. Works great and easy to follow instructions for installation.