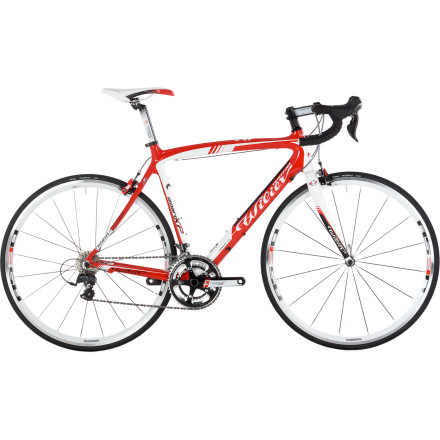 Detail Images
We'll take inspiration wherever we find it. Just the name Izoard instills a beautiful fear in our hearts, and compels us to dig a little harder. The Wilier Izoard XP/Ultegra 6700 Complete Bike is a tool for charging up this most brutal climb, stable enough to take our hands off the bars as we summit to fully inhale the uplifting emptiness and don a vest, then tuck in and thread the moonscaped descent..
The Wilier Izoard XP rides beautifully, and comes with a finish reminiscent of Wilier's creme de la creme Cento1. With its exclusive, color-matching FSA components and FSA saddle, its curb appeal is undeniable. It's a bike whose foremost intent is to deliver maximum performance-per-dollar; the fact that it's this gorgeous is a delightful bonus.
Like the Cento1, the Izoard XP is built with full carbon monocoque construction. It's made exclusively from Toray carbon, in this case T-700SC (medium modulus/stiffness) and M30J (high modulus/stiffness) fibers make up the bulk of the laminate. In the typical calculus of carbon fiber, the stiffness and tensile properties of the highest grades (such as the 46 Ton carbon in the Cento1) allow frame manufacturers to use less material to achieve requisite rigidity and strength. By using T-700SC and M30J in the Izoard XP, Wilier is sacrificing nothing in terms of its ride quality and durability, but use more material to achieve it, and this adds a few grams. The lower modulus carbon fiber is also significantly less expensive. Considering the beauty and the race worthiness of the Izoard, the value is easy to see..Shimano's Ultegra 6700 shifters and derailleurs have been chosen for this bike because of their day in-day out reliability and performance. We often find ourselves marveling at how well Ultegra works, and really, how imperceptible the functional differences are from Dura-Ace. Of a mind with any savvy consumer, the bike is spec'd with a 12-25 Shimano 105 cogset mated to a 105 chain.
The Shimano parts are complemented by FSA for the remainder of the build. FSA's Orbit CE drop-in headset mates the fork to the frame. The Gossamer forged alloy 50/34 compact crankset has Wilier/FSA logos and is color matched to the frame. The FSA Gossamer brakeset gets the same treatment. The FSA OS-190 stem and Omega Compact handlebar round out the control package. The Omega works 80mm of reach and 125mm of drop into a comfortable ergo shape, and furthering comfort is the four-degree outward cant of the hooks. The Shimano RS30 Wheels come equipped with Vittoria Rigide 23mm tires. The wheels have 16 front spokes and 20 rear, and are laced to a 30mm deep rim. This combination is both reasonably aero and lightweight for its aerodynamics; durable for everyday riding, too.
The seatpost is the FSA's SL-280, an aluminum post 31.6mm in diameter, finished in Wilier colors, and topped with a one-bolt clamp. Snugged into the clamp is the Q-Bik saddle, finished for Wilier with a cover to match the frame.
The Wilier Izoard XP/Ultegra 6700 Complete Bike is available in Red and Yellow. It comes in six sizes from X-Small to XX-Large. Crank length, handlebar width, and stem length are sized to match.
Hi

What is the maximum weight the frame can handle (weight of the cyclist)?



Thanks
I am in the military and was assigned to Germany, but deployed to Afghanistan when I decided to buy a new 2010 Izoard XP that was left over in 2011. CC is one of the only bike shops that agreed to send the bike USPS Priority to my APO address in Germany. It came in two boxes and cost me $200 but I got such a great deal, it was no worry. After seeing my wife and kids, the first thing I wanted when I got back to Germany from AFG, I wanted to see my new Wilier. It was my first carbon bike and my only comparison was my old Cannondale Saeco CAAD 5. The words that came to mind after my first few rides was supple and efficient for the long haul. When I needed to step on it and sprint, it had all the stiffness I needed to launch and accelerate. Having been a Campy fan, I have really come to like the SRAM setup. Unfortunately the current model is spec'd with Shimano, which would be a deal killer for me. My only gripe about the way my bike was spec'd out was the wheel set. I had hoped to replace the set with a $500-700 level set soon after purchase but was convinced by the household accountant (wife) to wait. Very soon I will be in the market for upgraded wheels. I love the boutique nature of the brand and what the brand stood for originally. I wanted to avoid looking like everybody else on Treks and Specialized. Great bike and a great opportunity for me to step up to carbon. Very glad I own this bike.
i am staying here in Saudi Arabia. how much will it cost for the shippment plus the bike.
Hi, I am assuming that the bicycle is...
Hi,

I am assuming that the bicycle is shipped in a box? If it is, how big is the box approximately and what is the weight?



Thanks.
Best Answer
Hey paup501534,



Thanks for the question. The Wilier Izoard XP/Shimano Ultegra 6700 Complete Bike will indeed be shipped in a box. The shipping weight will be around 30 lbs and the box dimensions 50x30x10 inches.
This bike is fantastic! I went from a sub-$1000 aluminum framed bike to this and I love it. Its smooth and as someone else said its an awesome bang-for-your-buck! Paint job is pretty awesome as well! I mainly do long-distance riding and it is great! The only thing I switched out is the saddle, I'm definitely not a fan of that. Definitely a great first carbon bike! I tested some others and did specs on the price point I was looking at and this was definitely the way to go!
Wilier is a long standing cycling company that has been dedicated to their versatile frames and unique style. Their Izoard XP/Shimano Ultegra 6700 Complete Bike began standing out in 2010 as one of the best bang-for-your-buck road bikes out there and it certainly holds true to form. High to Medium modulus carbon is weaved together to make a fantastic blend of stiffness and comfort for anyone from novices looking for that first carbon road bike to intermediates looking to throw their hat into racing.

The kit that comes with the Izoard does compliment very well for the price. The Wilier-FSA partnered componentry not only has an awesome lightness to durability ratio, but has a really satisfying look. The only complaint is that the Shimano RS30 wheelset is a great training wheel, but look for something much lighter in a wheelset if you are wanting to jump right into a race. I'll update as I put more miles on 'er, but I'm really stoked so far.