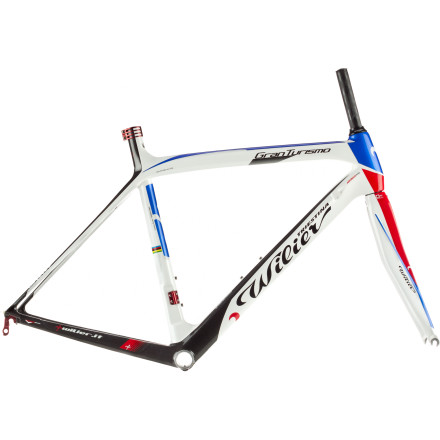 Detail Images
Description
It doesn't get any grandeur.
Gran Turismo either conjures up images of long, grandiose bike tours, or it makes you think of a certain computer game. Regardless of where your mind wanders, both scenarios require vehicles with versatility. That's what you'll find in Willier's Gran Turismo Road Bike Frame. And although we don't advocate only having one bike, if that is what you are limited to, the Gran Turismo is worthy of being your one-quiver bike.
The Gran Turismo frames were constructed using monocoque technology. The carbon fibers are laid into a continuous mold, or shell, which allows for endless possibilities in tubing sizes and shapes. In addition, monocoque construction allows fibers to be laid across junctions to increase durability. This type of lay-up, although more expensive and time-consuming, allows engineers to utilize different carbon fibers in different parts of the frame. Accordingly, Willer used carbon from two of its suppliers Mitsubishi and Toray. The lay-up consists of Toray's T-700SC and Mitsubishi's MR 60H and HS40 unidirectional fibers. Each is placed in such a manner as to optimize frame stiffness and power transfer while also ensuring the bike has a comfortable ride. Its Razor Edge design in the front and Smooth design in the back set it apart from the rounder tubing of the Cento1 and Izoard while at the same time giving it precise handling in virtually all conditions. Notice the oversized juncture at the bottom bracket which gives it torsional stiffness and efficiently transfers power to the drivetrain. Complement a large bottom bracket with thin seat stays that morph over the length of the stays. These are able to flex a bit in the vertical plane when riding over rough roads.
The monocoque process was used for the fork as well. By using this method, Willier esnures continuous fibers are laid from the fork ends to the top of the steerer. It was also able to design the fork's rake along the entire length of the fork which allows for some front end vertical compliance. Pair this with the over-sized headtube and you have a bike with impressive strength.
One final touch that Willier used was to design asymmetrical chain stays. As you can imagine, the drivetrain has different forces on the left and the right of the frame. To counter these forces, the chain stays are tweaked which once again, optimizes pedaling. The crank will turn a standard English-threaded 68mm bottom bracket shell which makes switching components simple.
The Wilier Gran Turismo Road Bike Frame is available in Blue, Dark, and Red and comes in six sizes from X-Small to XX-Large. Like any bike with a sloping top tube, we suggest that you focus on the effective top tube and head tube lengths in determining the correct frame size. The frameset includes a custom, CNC-machined seatpost clamp and accepts a 31.6mm seatpost. Also included is an FSA Orbit CE Plus 1-1/8in integrated headset. The seat tube has a braze-on style front derailleur mount. Cables run internally.