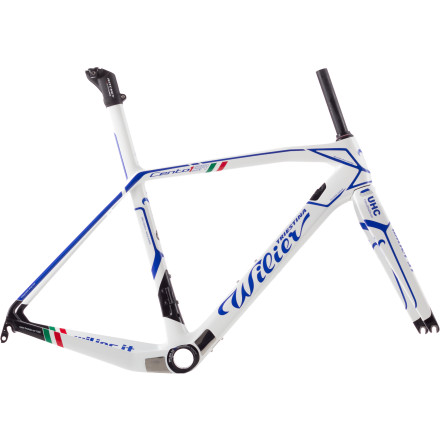 Colors

Detail Images
Description
Achieve balance.
The Wilier Cento1 Frameset has been around for a few years now, and, until the SR, it has remained virtually unchanged. That's because it was such an incredible, well-balanced frameset to begin with. The recipe was simple—a tight wheelbase and a comfortable, tapered head tube. The design dictated that the oversized head tube acted as a stabilizer for the somewhat twitchy frame geometry. The head tube made the frame comfortable for the long haul, but the hyperactive frame geometry provided explosive performance during attacks. The SR is a similar frame design, but Wilier has added elements from its other top-shelf frames to make it the most balanced frame in the Wilier stable.
The most important, and most noticeable, elements in the new frame are the massive chainstays and the Wilier-developed BB386EVO oversized bottom bracket. Developed in cooperation with FSA, the BB386EVO is 86.5mm wide and has a diameter of 46mm. Wilier estimates that the new bottom bracket increases rigidity by 30% and reduces power dispersion to almost zero. Additionally, this shell's width provides Wilier with the ability to widen the seat and down tube diameters by around 20mm. Of course, this means increased rigidity, but it also means decreased tubing wall thickness and weight reduction. Altogether, Wilier credits BB386 EVO with increasing overall torsional rigidity by 133% and rear triangle stiffness by around 115%.
Also new for the SR is a stiff, multifunctional 3D derailleur hanger, a 3D integrated cable routing plate under the bottom bracket shell, and an integrated adjuster plate for your internal cable routing. Easily the SR's most distinguishing component feature, however, is the Wilier Monocoque integrated fork. The down tube is angled upward, while the top tube accommodates the head tube's downward angle in approach to the new fork. This technology has been proven with the Twin Blade, and it greatly reduces the SR's aerodynamic footprint.
60T carbon fiber
Oversized chainstays
BB386EVO oversized bottom bracket
Wilier Monocoque integrated fork
.....most awesome....
Familiarity:

I've used it several times
Not quite sure how to do this as I usually don't do reviews, however each time I ride the SR1 I feel the massive urge to share. Started out for my road bike needs with a super six years back, then bought a pina paris & now the SR1 & to sum it up right upfront - I arrived, I so did. This bike is simply beyond amazing. Not sure where to start, as the SR1 does everything so much better than my previous ones, it's amazingly stiff and yet so super comfortable & compliant without holding back/filtering out road information. As I am running this 386BB with ultra torque adapters I only can imagine how it would transfer power with a full blown 386 crank set. It's super stable (not lame) on high speed descents, yet super agile when needed without being nervous. The most amazing thing which always makes me want to ride more is that this bike simply disappears under your butt & becomes one with you. You're not riding a bike, the bike is becoming an extension of you moving on wheels. Many thanks to Wes Branham

, Brett & Mike at Competitive to make it happen & Wilier for a magic layup of 60 ton carbon. Riding the SR1 has been nothing but a revelation.
Great follow up to the Cento1
Familiarity:

I've put it through the wringer
Around 6 years ago, I was the first employee at Competitive Cyclist to try out the original Wilier Cento1. My first impression of the Cento1 was very good. I was taken aback by the ride quality, lateral stiffness, stability and comfortable ride quality of the Cento1. Also, the pure beauty of the Italian design was breath taking. Especially when compared to the Cervelo R3 that I was riding at the time. I was so impressed with the Cento1, that I sold the R3 and purchased the Cento1 as quickly as possible.

After I had transitioned on to other bikes, I always missed the perfection of the original Cento1. So, when I went to build up a new road bike this year, I was excited to try out the Cento1 SR. The SR delivered the same performance of the Cento1, but with a stiffer bottom bracket and head tube. The rear end of the SR is not quite as compliant as the original Cento1, but running wider rims and lower tire pressure more than makes up the difference.

As built in the photo below with a 6800 group and Reynolds Assaults, the total weight of my SR comes right in at 16lbs with pedals and cage.

I would suggest the SR for any rider that is looking for a high performance race bike, or a rider who enjoys all the benefits of a fast race bike, without any negative effects. If you are looking for a super plush ride, the Wilier Zero.9 may be a good choice. The SR and Zero.9 use the same carbon and are the same price level, but the Zero.9 uses more traditional round tubes and a seat post, with a bit more give in rear end for vertical compliance.

Please hit me up if you have any questions. brett@competitivecyclist.com


Regarding the weight. It states that the frame and fork are 1450gr, but actual weight states 1900gr. That's almost 1/2 kilo discrepancy (1.1lbs) . Is this correct?
Thanks for the question about the Cento1 SR. The frame and fork weights are from the manufacturer. Many of these companies take the lightest, unpainted, frame without any parts and weigh it before paint and claim that weight. Frame and fork weights are just reported from Wilier.



The ACTUAL weights are what we weighed with everything included when we shoot the photo- Bottom bracket, headset, mast topper, and anything else. They will vary a bit but 1.1 lbs is a bit surprising to me too.



If you are interested in building a bike up, let me know and I'll get you a quote with our best pricing or answer any other questions you might have.



801-736-6396 ext 5630

adewitt@backcountry.com




this bike sneaks into my favorites list
Familiarity:

I've used it several times
A fully race-able bike that give you comfort for the longer hauls. I almost always forget this frame when I'm noting my top frames so I wanted to write a review hoping people will see it and put in in consideration with the F8, Empire, Bianchi, Cervelo and the likes. I was able to first ride the Cento1 when it first arrived in the US and wanted one right away. I will put the performance up with about any bike made, and will cost you considerably less. They led the way with aerodynamic frames and now it's all the rage, seems Wilier is always a step ahead. All this and I'm still happy climbing on it. I will say that if racing is your top priority I would go for the Zero.7, it's the little more aggressive edge you would be more happy with. If you have questions on the ride, sizing, anything on the Cento1 contact me directly at kylebrown@backcountry.com
Rocketship
Familiarity:

I've put it through the wringer
This bike is a rocket. So fast, but still comfortable for the distance. I was hesitant due to the ISP but I accredit it for some of the long distance comfort. The BB shell on this thing is massive and along with the asymmetric chain stays you end up with crazy power transfer. I think the Ferrari comparison is rather apt, especially if you're a fan of top gear- This bike demands to be ridden and is extremely responsive- it's not twitchy but you'll definitely want to pay attention when you're at speed. Plus when you pull up at a stop light everyone in the group ride gets a little jealous. I also love that you don't see this bike very often. Definitely some pride in ownership
Sweet Ultra Machine
Familiarity:

I've put it through the wringer
I had CC build a C1SL for me after a lot of research. I was coming from long miles on a "gentleman's bike" (a 2004 Specialized Roubaix) and although I wanted a more race worthy ride I didn't want to be crippled riding it at distance. Most US designed race bikes just hurt after 70-80 miles. The result was spectacular. The Wilier is actually MORE comfortable than my Roubaix, and every gram an aggressive race machine. With the same wheels/tires, I consistently ride 10-12% faster for the same amount of power, and most of that is because of the stiff power transfer, as well as a more aero riding position that is simultaneously easier on my back and neck. After roughly 1.5 seasons and 5100 miles, I've put it through the crucible on two double centuries, several 250+ mile training days, 4,000 ft screaming descents, and my first ultra - a 410 mile, 29,000 ft confirmation of this bike's lineage that started in the Dolomites. It is that rare combination of stiff and supple, and looks damn sexy in the peloton to boot. Only two words of caution. Definitely get a pro fit before you start cutting on the integrated seat post, as another writer mentioned. And straight out of the box, get a better, stiffer derailleur hanger. The original installed on my bike was soft as butter, and it took almost 1,000 miles to figure out why the bike wouldn't hold a tune for more than a day or two and shifted poorly accordingly. CC was super helpful. I called them 3 or 4 times and asked a million questions as I agonized over dropping $5K on a new bike. They answered all my questions, and had a lot of other suggestions as well. The Wilier is the closest thing to a Ferrari on two wheels and two cranks. It never disappoints.
Ride like Jens
Familiarity:

I've put it through the wringer
Yes, that Jens! This review is for a Cento 1 SL (not the SR), but the differences will be minimal. Shortly after I had CC build up my C1SL with Campy Chorus/Shamal wheels, I did get to ride with Jens (along with my son who is in the picture), and it was no trouble riding at his pace. OK, so it wasn't a race, just a Gran Fondo in TN; but this bike (I was upgrading from a Wilier Izoard w/Force) was an easy pedal for a metric century on the hills of southern TN with this 50 year old body. The major difference I've noticed is the stiffness of the BB, so much more of the power is transmitted with this bike than any other bike I've owned or ridden; especially when riding up the hills in TN or on the Hilly Hundred. But don't worry about the ride being harsh - it's a very comfortable ride for long distances. I've now ridden this bike over two thousand miles, and still haven't found anything I'd change. Can't recommend it enough. My only recommendation is to get a professional fit before cutting the integrated seat mast - I did the full Specialized Body Geometry fit and the results have been spectacular.
This bike is significantly stiffer than the 2009 cento uno that I had. Being a heavy rider (220 lbs), climbing usually reveals where a frame will flex and this frame is stiff at the bottom bracket and across the top tube. There's very little twisting at the head tube and with every pedal stroke the bike simply drives forward. The ride is still smooth and comfortable and I can't wait for the next 2000 miles on it.