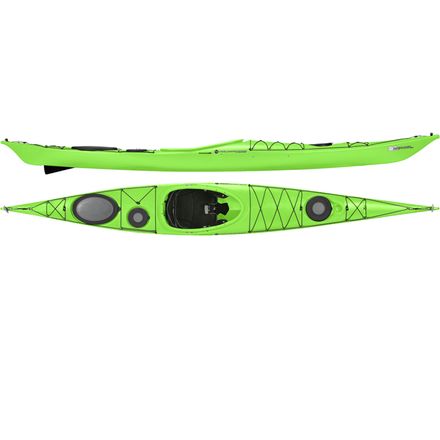 Detail Images
Wilderness Systems designed the Zephyr 155 Touring Kayak with the same deployable skeg, multi-hatch storage, and comfortable cockpit as the Zephyr 160, but the 155 has a cockpit fit specifically for smaller-framed paddlers. The deck is lower and tighter to keep the boat close to your body for control, but it won't leave you feeling cramped when you spend morning 'till night on the water. Take this touring boat on a long day trip or pack it with enough gear for a weekend exploring some islands off shore.
Zephyr uses a shallow v-hull, shorter length, and more rocker to offer more maneuverability than similar touring boats
Hull's multi-chine shape coupled with a signature v-hull design balances secondary lateral stability with speed and straight-as-an-arrow tracking
Increased secondary stability makes this touring craft easy to lean into a turn initially but particularly hard to capsize once deeply leaned into the water
Phase 3XP Seating includes foam-padded seat and leglifter that are both adjustable on the fly and help to reduce thigh and lower-back fatigue
SlideLock foot brace system accommodates paddlers of all sizes, while adjustable padded thigh braces increase cockpit comfort
TruTrack Skeg System allows you to deploy an integrated skeg at the stern in order to increase control and help this boat track as straight as an arrow
TruTrack Skeg deploys via a cable system that you operate from the cockpit, and the system has been updated for 2012 for easier at-home maintenance
Watertight hatches at the bow, midship, and stern provide plenty of gear storage so you can bring enough supplies for a whole weekend (small midship hatch stores easy-to-reach sunscreen and snacks)
Bow, midship, and stern bulkheads lock off each storage compartment so any water that enters at one hatch can't leak or wash into the next
Soft Touch handles and a low carry weight make it easy to transport from your car to the shore
Bungee deck rigging also includes a reflective perimeter safety line to enhance your visibility to larger boats
Made in the USA
What do you think about this product?
Have questions about this product?
Extraordinarily versatile
Familiarity:

I've put it through the wringer
I've been paddling a Zephyr155 for two years now. Bought primarily as a day tripping river boat. Its been a blast in the canyon reservoirs of the Rocky mtn region and on the North Platte river. Its excellent maneuvrability makes it a fun kayak to play in but also lends itself well to rough and stormy waters. It tracks nicely if you have a decent forward stroke and the boat responds to skeg deployment very well, often just a bit of blade deployment will keep you on the straight and narrow. The Zephyr may feel tippy at first due to its rounded hull but even a novice will quickly grow comfortable in the boat. Advanced paddlers can make this kayak dance.



I've recently returned from a backcountry trip in the Yellowstone and Teton area and used this boat because the weather was simply too bad to take a canoe. I was able to pack for 5 days with the judicious use of compression sacks and good modern backpacking gear. Total kit weighed about 55# and I weigh 170#. The Zephyr had no troubles at all in the rough waters. I also own a Valley Nordkapp and paddled Tempests for many years thus my comparisons are against some of the finest touring boats available.



The Zephyr gave me the advantage of one boat to do it all this time in the Tetons. It handled Leigh and Jackson lakes with aplomb and then followed up with a nice Snake river run. Hard to beat that kind of versatility, especially when the boat is just so much fun to paddle.



When I return to the Tetons and Yellowstone for next year's adventure it will certainly be in the WS Zephyr 155 again - it has earned its place as my primary boat.