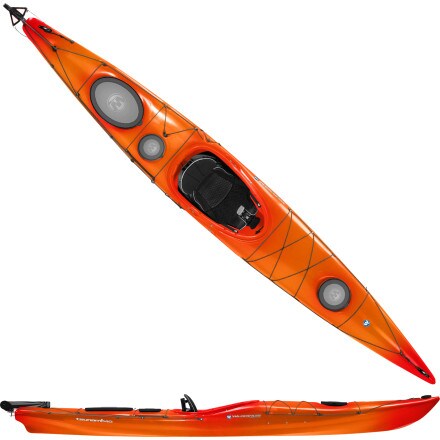 Wilderness Systems Tsunami 140 Kayak with Rudder - 2014 - Discontinued
View Larger Image
Detail Images
Description
Kayak be nimble, and kayak be quick.
Slide into the Wilderness Systems Tsunami 140 Kayak when the surf snarls or you see whitecaps on the lake. This ruddered boat makes steering across choppy open water simple and slipping through twisty inlets downright gleeful. Since this kayak is smack-dab in the middle of the Tsunami family of 'yaks, almost every size and every level of paddler feels at home in the 140. Deliberate design elements imbue this baby with stability and durability so you'll be cruising harbors and dancing through rock gardens in the Tsunami 140 for years to come.
The polyethylene hull shape takes it easy on burgeoning boaters and lets soggy river rats push their limits as well. The moderate V-shaped keel line keeps you on the straight and narrow when you plow across placid ponds. Multiple chines give you a stable platform when you first board the boat. Chines also create walls on your kayak, which makes tipping tough and tracking sublime, not to mention giving the plastic hull an extra shot of durability. A BTS rudder takes this easy-tracking boat and transforms it into a laser-guided missile under the steerage of a veteran paddler, and novice 'yakkers get an instant shot of confidence

Three bulkheads, stern, midship, and bow, offer you the ability to turn this 'yak into a cargo boat for a weekend camping trip along the water. Domed rubber hatch covers protect dry bags from an accidental flip as well as limit the amount of water your boat will take on. The Phase 3 AirPro Tour seat gives you a highly adjustable ride and a finely tuned fit. Fore and aft on-deck rigging lets you keep a few things at your fingertips. Say you've stowed your fly rod on deck and you've found the perfect place: secure your stick in the paddle park, grab your rod, and practice casting from a seated position.

Polyethylene, multi-chined V-shaped hull
Phase 3 AirPro TOUR seat
Keeper footbrace system
Adjustable thigh pads
BTS rudder included
Bow, midhsip, and stern hatches, domed rubber covers
Bungee deck rigging, reflective safety perimeter
Paddle holder
Soft Touch handles