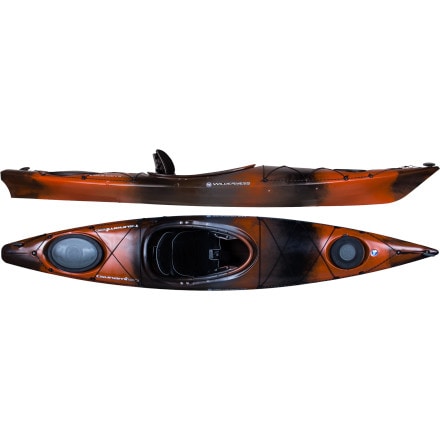 Description
An all-day tour won't wipe you out.
Paddling the mountain lakes of California or coastal inlets of Maine is a stunningly sweet experience in the Wilderness Systems Tsunami 120 Kayak. This 12-foot darling kisses shorelines, cruises straight across glassy lakes, and totes everything you'll need for a riotous day trip or sedate summer overnight. Bow and stern hatches protect your dry bags, and the seat protects your tush (and back) from getting sore. Greenhorns won't get green around the gills in this stable ride, and old hand paddlers will enjoy easy maneuvering in and out mangrove mazes.
Crafted from durable polyethylene, the hull will last through your learning curve and well into the heart of your paddling pursuits. The moderate V offers laser-like tracking. Multi-chined sides do more than enhance tracking; this specific design element creates side walls for superb secondary stability as well as supplement material rigidity for a longer lifespan. Compared to the Pungo 120, the Tsunami 120 cockpit is tighter for more effective paddling when winds do more than ruffle the surface of your paddling pond. A skirt isn't a necessity, but if you're tackling chop, the skirt will keep your knickers dry (skirt sold separately).
The Phase 3 AirPro Tour seat lets you finely tune the fit for maximum 'yakking comfort. Simple, obvious icons point to adjustment points and function so you know what you're doing and why. The SlideLock footbrace system finishes off the fit with a quick flick of your finger. Bow and stern bulkheads open to swallow gear for a full day on the water or a mid-summer overnight. Fore and aft on-deck rigging puts a shell easily within reach in case the weather report was wrong. Soft Touch handles mean your paws aren't bloody just from toting the boat from the car to the put-in.
Polyethylene, multi-chined V hull
Phase 3 AirPro TOUR seat
SlideLock foot brace system
Adjustable thigh pads
Bow and stern hatches, domed rubber covers
Bungee deck rigging, reflective safety perimeter
Soft Touch handles