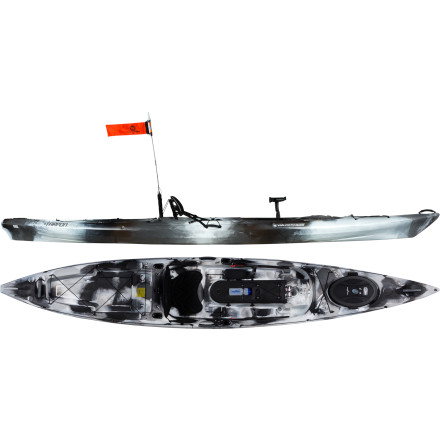 The Wilderness Systems Tarpon 160 Angler Kayak includes multiple fishing accessories from Yak Attack so you can customize your boat for fishing adventures. Attach the included fishing rod and flag along with the Mighty Mount mini-track and two Screwball attachment accessories for complete convenience as you're angling. When fishing is not on the agenda you can remove these accessories and take this boat out on casual kayak trips, whether it's a relaxing cruise over a mirrored lake or a tour between offshore islands.
A flared hull with a tapered bow helps the Tarpon 160 track straight and fast through waves and across flat water, and a hard chine line defines the edge just below the cockpit to offer the necessary stability for fishing. The Phase 3 AirPro seating system ensures long-lasting comfort for day-long fishing trips in this sit-on-top cockpit. Leg-lifters, a scalloped seat, and enhanced airflow make all-day paddling sweet on your seat (and back), and the Keepers foot brace lets you further customize your comfort. The Tarpon opens wide to swallow all the gear you need, with bow and midship hatches with Orbix locks for security. The cavernous tankwell at the stern is perfect for drybags full of gear, and the bungees will secure them in place.

The versatile Zooka Tube from Yak Attack accommodates all kinds of fishing rods thanks to its innovative design. This open-ended rod-holder features a locked slot, two positions for your convenience, and an opposite side for catchers or stakeouts. The VisiCarbon Pro flag features an orange flag with a light to keep you visible when you're fishing in the middle of the lake.
Polyethylene hull
Flared hull, tapered bow, and hard chine
Sit-on-top cockpit
Phase 3 AirPro seating system
Keepers foot brace system
Midship and bow hatches with Orbix covers
Tankwell with bungee
Gear storage pockets, cup holder
Yak Attack Mighty Mount, 1.5" Screwball, 1" Screwball, Zooka Tube, and VisiCarbon Pro flag included
What do you think about this product?
Have questions about this product?
Wilderness Systems Tarpon Kayak