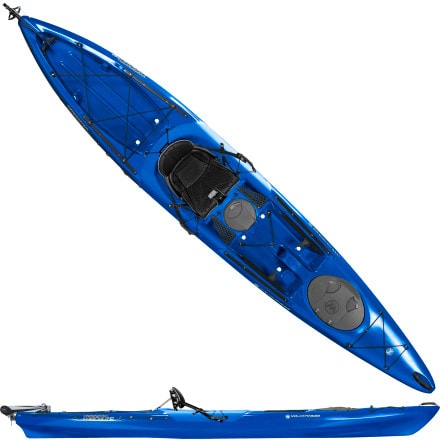 Wilderness Systems Tarpon 140 Kayak with Rudder - Sit-On-Top - 2014 - Discontinued
View Larger Image
Detail Images
Description
It's okay to drop the rudder.
The Wilderness Systems Sit-On-Top Tarpon 140 Kayak with Rudder won't let you get distracted when the winds kick up and the waters transform from tranquil to turbulent. This sleek sweetheart of a boat tours with the grace of royalty and the longevity of '60s rock bands. Long lines, a fore and aft keel, and a drop-down rudder elevate steering to German sports-car level that even a newbie appreciates.

Built with the same profile as the Tarpon 100 Sit-On-Top, this multi-chined multi-purpose boat slides through still water and bounces through chop with ease. First-timers won't be walking funny after their initial outing since the Phase 3 AirPro seat ensures a happy tush and back. Leg lifters minimize undue pressure on your tailbone, and enhanced airflow prevents your back from drowning in sweat. Whether you're short or tall, the Keepers footbraces adjust so your feet always have an appropriate place to rest. If you're digging in for an all-day fight with the granddaddy fish in the lake, you might as well be comfortable.
When winds blow or the current threatens to take you away, drop the BTS rudder. Pro-paddlers won't mind a bit of correction when a fast-moving squall threatens the day, and neophyte kayakers get a massive dose of steering confidence. Storage galore makes this kayak king for weeklong paddles. Orbix hatch covers protect bow and midship storage. Bungees secure dry bags and coolers in the stern tankwell. Built-in midship storage pockets are separated by a cupholder and secured with a rubber mesh. Slather your face in sunscreen before you head, and keep an extra tube handy for a second coat come noon.

Multi-chined polyethylene hull
Sit-on-top cockpit
Phase 3 AirPro SOT seating, Keepers footbraces
BTS rudder, drop-down
Bow and midship hatches, Orbix covers
Stern tankwell, bungee-secured
SlideTrax accessory system
Comfort carry handles, front, rear and sides