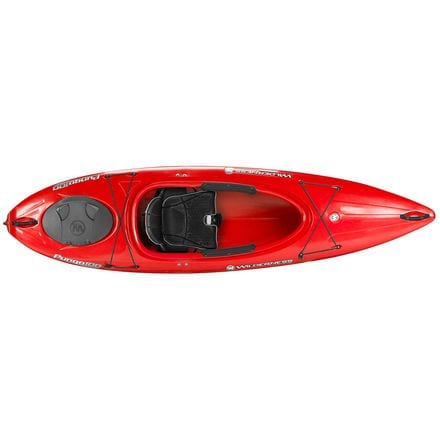 Description
Small and sweet.
Even though some would beg to differ, the Wilderness Systems Pungo 100 Kayak is proof positive that the best things come in small packages. This tight boating package boosts beginner confidence and lets advanced paddlers enjoy an easy day on the lake. Comfortable outfitting and instant on-board stability make the Pungo your preferred watercraft for weekends at the lake or a little bit of water-based leaf-peeping when the trails are clogged with tourists.
Designed with a touring take, the polyethylene hull sports a modified V and hard chines. Rookie paddlers won't rock and roll the minute they sit down, and more prolific paddlers will enjoy easy tracking across flat water. The slightly pointy bottom lets you trace a straight line between two points, but it doesn't help the boat corner on a dime or carve a curvy turn. Forceful rivers and wind-rocked lakes will push the limits of both the boat and 'yakkers alike. But on mellow creeks and along the shores of the Great Lakes, the Pungo packs a punch of fun and then some.
The Phase 3 AirPro seat offers a plush place to rest your tush and back. The SlideLock foot brace system puts adjustment ability at your fingertips so a host of different-sized paddlers can enjoy a custom fit in an instant—within reason. Past pro-cagers and Hall-of-Famer pro-football players might not be able to squeeze into this petite paddler package; bigger folks will be more comfortable in siblings of the Pungo 100 (the Pungo 120 or Pungo 140). Safely stash a dry bag containing snacks and a camera in the stern hatch, and find sweet relief in the Comfort Carry handles when you're schlepping your boat to and from the car.

Polyethylene
Phase 3 AirPro seating
SlideLock foot brace system
Thigh and knee padding
Stern hatch storage, Orbix cover
Bungee deck rigging, bow and stern
Comfort Carry handles