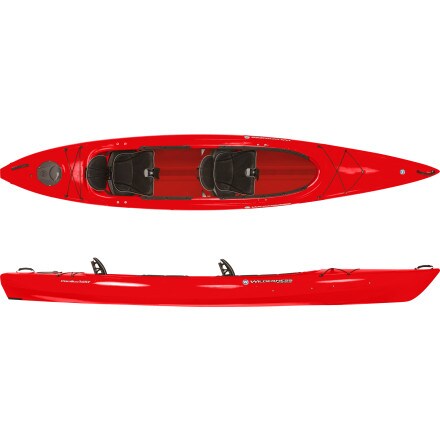 Wilderness Systems Pamlico 145 Kayak with Rudder - 2014 - Discontinued
View Larger Image
Detail Images
Description
Grab a paddling buddy and head out for a day on the water.
Almost twenty years in the kayak business gives Wilderness Systems a wealth of knowledge and experience to draw upon to create boats like the Pamlico 145T Kayak with Rudder. You kayak to escape the noise, the lights, and the crowds, and this kayak allows you to do just that and take a friend along for the ride. The 145T features a signature rounded hull that delivers swift acceleration and seating to accommodate two paddlers. Minimal bow and stern rocker, added hull width below the cockpit, and a defined chine line allow this boat to move efficiently across long distances and provide confidence in a variety of water conditions. As a bonus, the included rudder kit provides directional control that's useful with a long boat designed for two. With a push of the rudder pedals (the rudder pedals are the same as the foot braces for the paddler sitting in back), the paddler can help this boat change direction quickly and easily.
A boat is nothing without a comfortable cockpit, and the Pamlico 145T hits the nail on the head for both paddlers. Both the fore and aft seats feature soft, quick-draining padding and quick, one-handed adjustments that are easy to reach. The high backrest supports your lower and middle back, and adjustable foot braces slide along a track so you can put your feet in just the right position for paddling leverage. Two seats can sometimes present a problem in terms of keeping a boat trim in the water, but Wilderness Systems addressed this by allowing you to slide the bow seat fore and aft to distribute the weight as necessary. With a wide, open cockpit and a host of features to put you at ease, you and your partner can enjoy the journey.
Although Wilderness Systems offers kayaks for everything from recreational day paddling to self-supported expedition trips, a tandem boat like the Pamlico is still a rare bird. The only other boat that offers seating for two is the Northstar, and it resides in Wilderness System's Expedition category for longer paddle trips that require more maneuverability and tighter but longer boat design. Smooth on the water and designed for flat-water paddling, the Pamlico is the best option for recreational kayakers who want to hit the water for a day of fun.
Share your thoughts
What do you think of the
Wilderness Systems
Pamlico 145 Kayak with Rudder - 2014 - Discontinued
? Share a...
Posted on
1) Does the stern seat adjust fore &...
1) Does the stern seat adjust fore & aft?
2) Are either of the seats removable? If so, which one?
Thank you.
Responded on
1)The stern seat does not move. The bow seat does.
2)Both of the seats can be removed with some effort. Not a quick process but you could remove them.
If you have any questions on kayaks give me a call directly. Eric Watford Ext. 6069 ewatford@backcountry.com