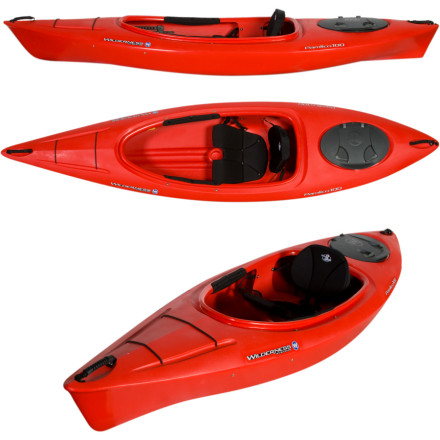 Detail Images
Sized for younger paddlers or smaller adults, the Wilderness Systems Pamlico 100 Kayak provides a stable float that???s easy to control. At a mere 42-pounds, this boat is easy to handle in and out of the water, and the 30-inch width makes it very stable, which is crucial for building the confidence of first-time paddlers.
SlideLock Footbrace System lets you change up the foot-rest placement depending on leg length or paddling (extended knees during a casual cruise or bent knees for more paddling leverage)
Stern hatch with rubber cover secures everything you need for a day on the water
Bungee cords on the bow are just right for a hat or staging your paddle when it???s time to just sit back and float
Knee pads can be placed on inside or outside of cockpit for maximum comfort and control
Comfort carry handles make transport easy
Water bottle holder at seat ensures your hydration is close by
Works as an open-cockpit or with a spray skirt (sold separately)
Unanswered Question
How does this kayak compare to the Old...
How does this kayak compare to the Old Town Vapor 10?
I've had great times in this kayak. Many river trips. It's a little on the heavy side compared to my friend's BLAST, but nothing to serious. I've even done class 3 whitewater on this. Just bought a sprayskirt- I will update how that goes for me

Good purchase I found it a few years ago for like $350.
I inherited a Pamlico 100 recently (only...
I inherited a Pamlico 100 recently (only used twice!) and I have two questions. I've canoed a lot, less so with kayaking. Is there much of a learning curve? And second, although the kayak is a "mere" 42 pounds, it's going to be hard for this woman to hoist on top of my vehicle. Are there any mechanisms that can be used to help me get the kayak from the garage floor to the top of my car? Thanks.
Learning isnt hard just try it out and you will get the hang of it. As for lifting you can buy pulley systems that will allow you to hang it from the ceiling and lower it onto the car which is probably the best bet
Curious - can you use the dashboard (Konsole)...
Curious - can you use the dashboard (Konsole) on Pamlico's? I am debating Pamlico vs Pungo.. and the dashboard is a really cool feature on Pungo!
Pungo 120 Konsole will fit on the Pamlico 100. Tried my friends Pungo on my Pamlico last weekend.
I'm new to the kayak scene. As I read reviews the pamlico seems to be a great yak for the price. I'm 5' 11" at 180 lbs. Will this boat work for me? I will use the kayak on lakes and maybe class 2 rivers...maybe! A friend of a friend has a new one with paddle, she wants to sell for $350.00. she won it in a contest.
I am a first time buyer and I am wonder...
I am a first time buyer and I am wonder what paddle, spray skirt and any other accessories you would recommend to me for this kayak.
Best Answer
For this boat I would suggest a Harmony Clearwater Spray skirt. I'm not sure what size but it's easy to reference.

http://www.backcountry.com/harmony-clearwater-ttd-spray-skirt

As for paddles it's all a matter of how much you want to spend. Most of the lower end beginner paddles are comparable.

The only other accessories I would suggest is a dry bag for whatever you want to bring that won't fit in the hatch and most definitely a PFD (life jacket) of your desired style.

If this helps please Thumbs Up. Thanks.
I'm doing research on buying my first kayak...
I'm doing research on buying my first kayak and this seems to be a good one. I was wondering if this would be a good beginners kayak? If not what would be a good one? I can go up to about $700 if that would get me a better beginners kayak. Thanks.
This one will do a good job plus, if you mess up, it's easily repairable-- holds a patch well. The seat could use a little something for comfort on longer runs though!
where do you get a replacement seat for...
where do you get a replacement seat for this kayak? Mine broke. Thanks!
See the Wilderness Systems website. You have to call or fill out the "contact us" section (because it is a replacement part, not accessory). It may even fall under the warranty, in which case it would be free!
Make sure you check the fittings as you may be able to find a better one from a company like Harmony (sold here on backcountry).
I've had the pamlico 100 for 2 years now and it has taken on some rough water, yet there is hardly a scratch. I have the older model which isn't much different from the new (different stern hatch). It has tons of storage and many places to mount a rod holder. It is lightweight and easy to maneuver. The pamlico 100 is great!
I purchased a pamlico 100 two years ago, and I could not be happier with this product. It is extremely comfortable for all levels of paddling and comes standard with amenities that other yaks in the same price range do not. i just wish they came in a more neutral color :)
The Pam 100 is a great ride on most any water. I have had this on the lake and rivers up to class 3 rapids. It is fast enough with good maneuverable. It has a comfortable seat for longer rides and plenty of storage.The oversized cockpit is nice also. If you want a spray skirt for this kayak I would recommend you go to harmony gear. They have the best one for this kayak.