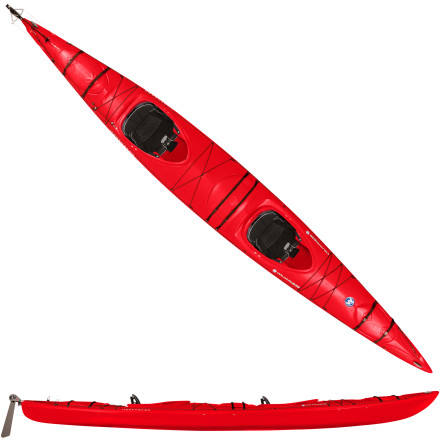 Starting in 1985, Wilderness Systems set out to design and build kayaks for adventure and exploration, and almost twenty years later it's still influencing the market with boats like the Northstar Tandem Kayak. As one of two tandems in Wilderness's entire lineup, the Northstar is longer than most touring boats. Capable of accommodating two paddlers of varying skill levels, the sleek hull offers a silky-smooth feel in the water and the storage space needed for expedition-style touring. Rounded contours and soft chine lines deliver consistent glide, while bow and stern rocker and the included rudder system provide the maneuverability needed to navigate this long boat in tight waters. An expedition boat isn't complete without watertight storage, and the Northstar provides this thanks to bow, midship, and stern hatches with rigid covers on top and watertight bulkheads below deck.
Cockpit outfitting is a vital detail, and one of particular importance for a touring boat. Phase 3 AirPro tour seating features fully padded seats with integrated ventilation holes and a flexible design that provides support for your back without pressuring your core and limiting your stroke. Easy-to-reach web straps allow the seat-back to be pulled down for more lower-back support or up as well as forward for more aggressive paddling or back into a more reclined position for relaxation. Central controls located at the front of the seat adjust seat-integrated leg lifters that remove pressure from muscles at the back of your legs in order to improve blood flow to your lower legs and feet. Comfortable seating would be nothing without thigh and knee braces that improve your boat control and keep your legs off the side of the cold, plastic hull, or the adjustable foot braces that position your feet so they won't fall asleep after hours on the water. Wilderness systems even saw fit to include a small mesh bag to hold your water bottle, camera, or snacks.
Wilderness Systems has a deep lineup of recreational, touring, and expedition boats, but tandem kayaks are a still a bit of a rare bird. Only the Pamlico 145T is comparable to the Northstar Tandem, but the Pamlico is more of a recreational and day-touring option, not a multi-day touring boat like the Northstar. For paddlers with mixed skill levels and a passion for spending long stretches away from shore, the Northstar Tandem Kayak with Rudder is an excellent, highly maneuverable option ... even when you load it down with enough camping gear for an army.
Tandem hull accommodates two paddlers
Phase 3 Airpro Tour tandem seating system
Seat controls move seatback up, down, forward, and back
Integrated thigh and knee braces
Fore and aft Keepers adjustable foot brace system
Bow, midship, and stern hatch covers
Included BTS rudder system with rigging
What do you think about this product?
Have questions about this product?
AWESOME!
Familiarity:

I've put it through the wringer
Purchased this kayak for tandem sea adventures. No problems at all from start to finish with Backcountry. Delivery was within a few weeks and packaged to withstand the rigors of shipping. I have used the kayak in the open ocean and it handles perfectly and tackles waves nicely. The rudder system makes steering easy and can be adjusted by setting the footpegs to suit your size. The seating arrangement is comfortable for a variety of sized people. The seats have an adjustable back support to accommodate for extra comfort. There are plenty of storage bins to pack your gear. The quality is impeccable and you will not be disappointed. Just remember it is almost 20 feet long and weighs over 90 pounds. You will need two people to load and offload the kayak. I purchased the wheels that attach to the back to make maneuvering easy in and out of the water. If you are looking for a rugged tandem kayak that can handle most any condition than this is the kayak for you.