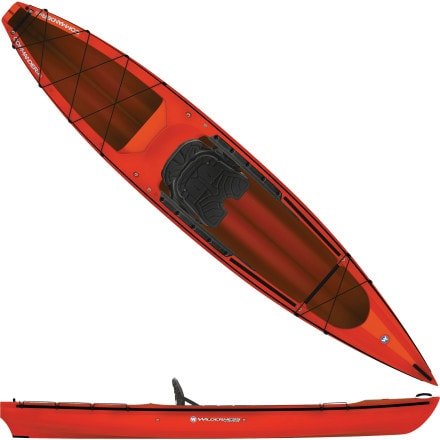 Description
Sit inside, sit on top, or stand.
Whether your ticket to enjoying nature is a full cooler, a four-legged friend, a fish-hunting pole, or a long-zoom lens, it's valid on the Wilderness Systems Commander 140 Kayak. In addition to plentiful cargo room, this hybrid sit-on-top, sit-inside, stand-up kayak offers a molded and elevated captain's seat for better posture and less fatigue while paddling.
Large, stable cockpit means you can stand up if you need to get a better view, a better picture, or a fuller cast
Extended thigh padding adds comfort for afternoon paddles to picnic island
Slidelock footbrace system lets you find the ideal bracing position to optimize stroke efficiency
Drain plug means you don't lug around a water-filled anchor after each ride
Large back tank well with bungee holds a cooler or a dry bag with your photo gear
Comfort Carry handles help make transport easier without cutting off circulation to your fingers
Share your thoughts
What do you think of the
Wilderness Systems
Commander 140 Kayak - 2012 Model
? Share a...
My new Commander 140 is the newest addition to my other 2 Kayaks. My outing in the 140 was really nice. Easy to get into, very stable, and easy to paddle. Handled well in the wind and some waves. This is a very cavernous yak for me to carry all of my camping gear for I do a lot of overnight trips on rivers and lakes. Very good price and very pleased with it.
Posted on
My husband and I are beginning kayakers...
My husband and I are beginning kayakers and are looking for a kayak that will work well with our 90-lb dog. From what I've read, I'm leaning toward the Commander 120, but it is listed on this website as for "advanced" paddlers, while the 14 ft is listed for all paddlers. To complicate matters, my second choice - the Native Ultimate 12 ft - is also listed for beginners. So I'm unsure why two similar boats require different skills.
Help! (and thanks!)
Responded on
Both the ultimate and commander are very stable hybrid kayaks. Now what you will find is that alot of kayaks that are priced in the $1000 range and higher seem to always say for a advanced paddler. I can say with confidence that since this kayak is very stable even for standing it should be fine. Most important is that stability is what you will need with a 90lb dog. If you are not a strong paddler a stable kayak is what you need and a good kayak class will help with this since paddling in about technique first and endurance second.
Responded on
I just recently purchased an Old Town Twin Heron to take my 90 lb yellow lab with me. It is very stable, 13-6 long and can be paddled as a single or a tandem. I have found it to be very enjoyable paddling with my dog.