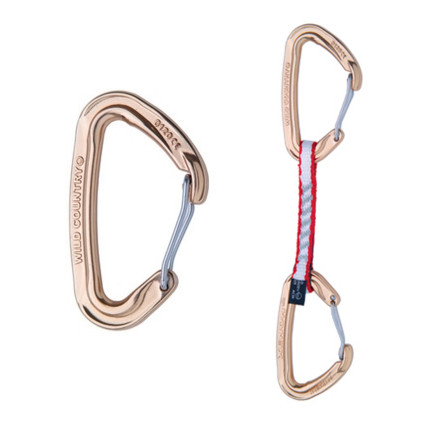 The Wild Country Xenon Lite Quickdraw combines two of Wild Country's lightweight Xenon Lite wire gate carabiners with a Dyneema sling to create a versatile quickdraw for strenuous sport climbing or streamlining your trad rack. Wild Country's Tadpole rubber ring keeps the rope-end ???biner in place for stable clipping, and the Xenon Lite's hooded nose protects the Tech-wire gate. When you peel off that tiny crimper just before clipping the chains, sorry, but it's your lack of training holding you back, not the Wild Country Xenon Lite Quickdraw.
Share your thoughts
What do you think of the
Wild Country
Xenon Lite Quickdraw
? Share a...
smooth clipping and ultralight
love these draws and biners. the gate has a really great action too it and these are super light in the hand. the size is on the small side, but still easily clipped. the biners themselves are great for racking cams too. all in all I highly recommend WC biners. for the price and quality these xenon lite draws can't be beat so long as you don't mind the reduced size. if you are looking for a full size biner, go with the nitro. if you are looking for a creme de la creme draw, go with the heliums.
Light, Inexpensive and quality
These are really nice quickdraws. There are a lot of other draws out there that are twice the price but for the same quality. The xenon lights are very light (2.3oz); however that is partially because they aren't full size (they are only slightly smaller). All in all, I would recommend these quickdraws, but I prefer the full size carabiner; so for a similar price and weight I prefer the Wild Country Nitro quickdraws, but you can't go wrong with these either.
These draws are extremely light. I mix these with a keylock for the gear end and use the extra biner for whatever. All in all great trad draw but the heliums clip better
These quickdraws are amazing. you don't even feel them on your harness, and they work great, easy to clip, and stand up to abuse.