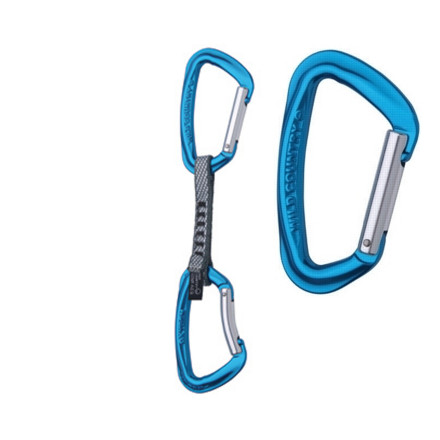 The Wild Country Oxygen Keylock Quickdraw features two of the popular Oxygen carabiners and a lightweight Dyneema sling for a solid draw that holds up clip after clip. When you're 10 feet above the last draw and your forearms feel like they're going to explode, you'll appreciate Wild Country's Keylock hookless Keylock nose for smooth clipping just before you yell ???Take!???
Let's start by saying that these draws are not wire gates and are not the lightest draws out there.



That being said, they are a really solid draw and look great to boot.



The clipping action is snappy and gate size allows for stress free clipping. Although the dyneema dog bone is thin, they also stay stiff and keep from twisting around. While a friend was using them on a route he came across one during the crux move and complimented their beauty mid-groan.



Overall, a solid draw that I would recommend to anyone looking for a set of straight/bent gate draws
I already had a set of '07 Oxygen kelock QDs (red and silver) and I loved them. I just got a few of these '08 QDs (blue and silver) and I don't think they are as nice as the '07. the gate action wasn't as smooth and the material was softer and would consistently show more wear than the '08 version.
You get what you get. I love the fact they are bright blue and a bit longer and lighter then my other ones.
They not only look good but they work good
Used them for the first time this weekend on several routes. Keylock nose made it real easy to clip in and cleanup. Took a couple of falls and well i'm still alive. Bottom line it's a great product. So quit hesitating and buy them and prepare to be complemented on your shiny blue draws.
If you are thinking about them...then get them.
They have everything you need. I didn't want to go wiregate on the super off chance they could get snagged on the bolt. They are light, great clipping action and the with the key lock don't worry about getting them snagged when cleaning.

I liked them enough to buy them, review them, and pick up more.
Wild Country Oxygen Keylock Quickdraw
Great draws, took a whipper on them a few days ago and they held just fine. Not the lightest draws out there but not the heaviest either, pretty solid all around.