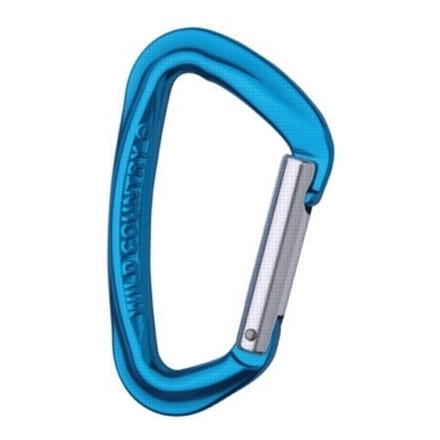 Stout construction makes the Wild Country Oxygen Keylock Carabiner ideal for those who aren't too keen on the ultralight wire-gate trend or are just looking for a good all around 'biner. The redesigned Oxygen features Wild Country's hookless Keylock nose to avoid snags and make clipping and unclipping much smoother. The Wild Country Oxygen Keylock Carabiner performs well across a variety of climbing disciplines.
What do you think about this product?
Have questions about this product?
My rack has been slowly thrown together and consists of Petzl Spirits, BD Positrons, and Wild Country Oxygen biners. Between those 3, I can't say I have a strong preference for one over the other. The positrons seem to have the smoothest action on the clipping, but it's not to the point where I notice that much of a difference. These are good strong biners and they come along on every climb. If the gate ever gets pushed open on these at the wrong moment, the 9kN open gate strength is definitely a comforting plus that you won't get with most biners.
Inexpensive but not worth it to me
I know these are inexpensive 'biners but I did not like the action on either of the two I got. The fit of the gate hinge pin I thought had more slop than other inexpensive carabiners like the BD Light D (I know it's not he same shape but it's comparable in price and function to some degree). The closing "snap" from it too wasn't as strong as I prefer.

The bottom line is that yes it's an inexpensive carabiner but I believe that it feels a little too "cheap".